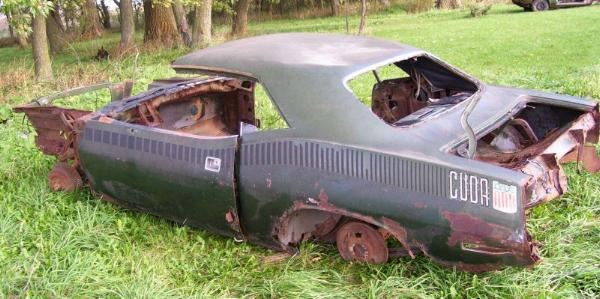 Canadian Edition

     Page 172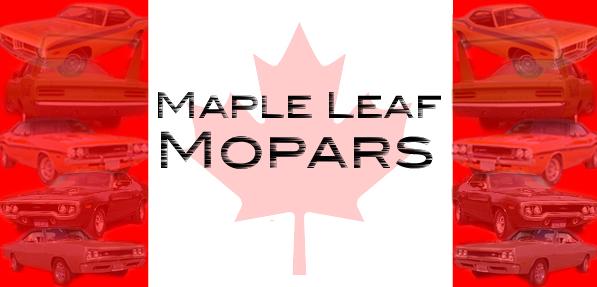 1970 Plymouth AAR Cuda.

1970 Plymouth Barracuda AAR parts car only is rusty, rough and incomplete.  No engine or transmission.  No title.  ID number on the cowl is B0289409.  This car has been stripped to clone another one by the previous owner.  Car has original paint and stripes.  Has rear end, but no axles or hubs.  Has brake pedal for automatic transmission.  Has left rear glass side, trim and window mechanism.  Also drivers door with glass, solid center floor section.  Front upper and lower A-arm spindels, hubs, solid shock towers, gas pedal and brackets, and trunk hinge.  Complete drag link and torshion bar.  Front radiator support, drivers inner fender, windshield wiper motor, steering box.  Rear end is 8 3/4 inch.  Gear ratio unknown.  Also has gas tank.  Big finned hubs.

Sold for $610! I would have bought it for lawn art!

1970 Plymouth Superbird Six Barrel.

1970 PLYMOUTH SUPERBIRD , NEEDS GROUND UP RESTORATION. NON MATCHING NUMBERS CAR, ORIGINAL DRIVE TRANE STOLEN IN 1978, IT IS AN ORIGINAL V CODE CAR. HEMI ORANGE, NOSE CONE, AND WING ARE ORIGINAL....CAR CURRENTLY HAS 1974  440 MAGNUM , ORIGINAL 4 SPEED CAR, HAVE EXTRA PARTS GOING WITH CAR, RARE FIND AND ONLY FEW PRODUCED....WILLING TO TRADE FOR 68-70 MOPARS.....CAR STILL HAS FENDER TAGS AND VIN ON DASH.

This car would be considered a (basket case). the original engine ,tranny,and rear end are no longer with the car. the rear body is beyond repair. WOULD HAVE TO BE COMPLEATLY REPLACED, also the frame rails are compleated rotted and will need to be replaced. To bring the car up to restoration standard's it would be in the figure of 50k to 100k.

IT IS WHAT IT IS !!!!!!! ITS A REAL V CODE 4 SPEED SUPERBIRD, WITH FENDER TAG INTACT. WITH ORIGINAL MOLDINGS ON THE CAR , AND PILLARS ARE IN GREAT SHAPE.