Canadian Edition

          Page 88




1971 Dodge Challenger Convertible.

Well it looks like a Canadian selling a car thats in Ohio? Not sure if its an original Canadian car or not but its a two fender tag car loaded with options. It sure will be a great looking car when its finished. Here's a cut and paste of the originall auction:

This is a factory 1971 Dodge Chaalenger Convertable, 383, automatic, numbers matching, it is a 2 tag car, loaded with options, some of which include, power top, power windows, Air conditioning, luggage rack, etc. It was ordered in FC7 ( Plum crazy Purple ) exterior, and a white interior, I have the 2 original fender tags, broadcast sheet, window sticker, and some other paperwork. The car has had rear quarter panels put on it, and some work on the front fenders, this car was never hit or in an accident that I am aware of. I have included as many pics as I could for you to see almost every angle of the car, in my opinion it is about 85 % finished, in order to make a nice daily driver, this is NOT a totally restored car at this point. It runs and drives and everything works, but needs paint and a new top, as well as some seat covers. There is NO rust holes in the car, and the remaining paint that is on it appears to be original. The car is located in OHIO, and is listed locally, in several different books, I will end the auction if it sells locally. This is NOT A CLONE, IT IS A REAL FACTORY BUILT CAR !!!!  PLEASE DO NOT BID UNLESS YOU INTEND ON BUYING THE CAR !!!! I AM NOT GIVING THE CAR AWAY, I DONT WANT TO TRADE FOR ANYTHING THAT YOU OWN, I WANT TO SELL THE CAR BECAUSE I DONT HAVE TIME TO FINISH IT. IF YOU ARE LOOKING FOR A CHEAP CAR, THIS IS NOT IT !!!!  GOOD LUCK BIDDING, IF YOU HAVE ANY QUESTIONS FEEL FREE TO CALL ME  AT 1-519-212-3077  SHAWN

1971 Plymouth Road Runner.

Here's yet another cool car for sale!!! Does it get any better the Tor Red 4-speed bench seat air grabber Road Runner??? I think not!!! This one even has a back in the day custom paint job! I would get this one mechanically fit and start banging some gears as is...the resto can wait!!! I mentioned this one is for sale here is the ad:

FOR SALE 1971 Plymouth Roadrunner Original 383 4 Speed, Hemi Orange Air Grabber hood Black Interior. This is a numbers matching Car I do have the build sheet and all the tags are correct. This is a project requiring rust repair 1/4 panels (AROUND THE REAR WHEELS) front floor panels inner fenders some around windshield (hood hinge) aera etc. This was a bench seat car now has period 70- 71 reupholstered bucket seats, and a bucket seat pistol grip shifter handle. The Air Grabber hood assembley is complete and functional. The car has been changed from standard steering to power steering. Trunk floors are excellent, engine has been resealed and detailed, I found 30+ forged pistons. Carb and exaust manifolds are not original although they are period pieces you would have to check the numbers to notice any difference. Car runs and drives new exhaust but needs to be hooked up from manifolds to previous header location.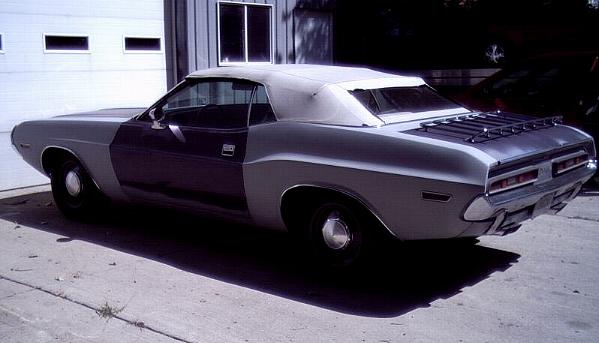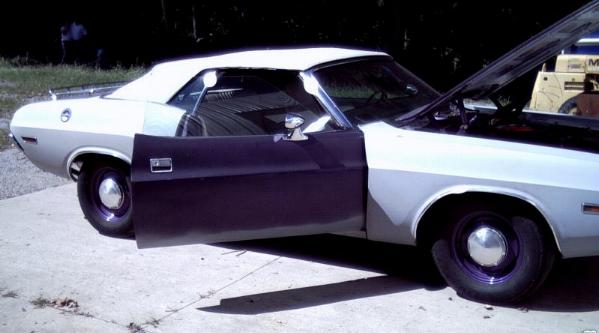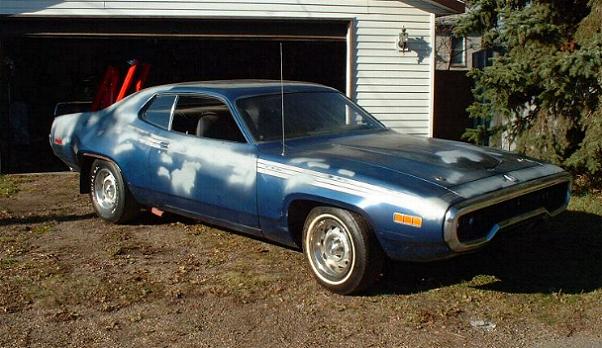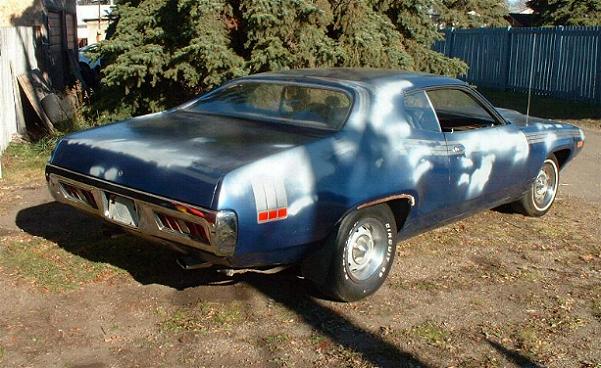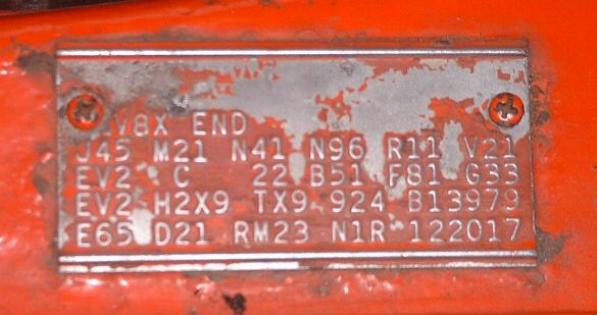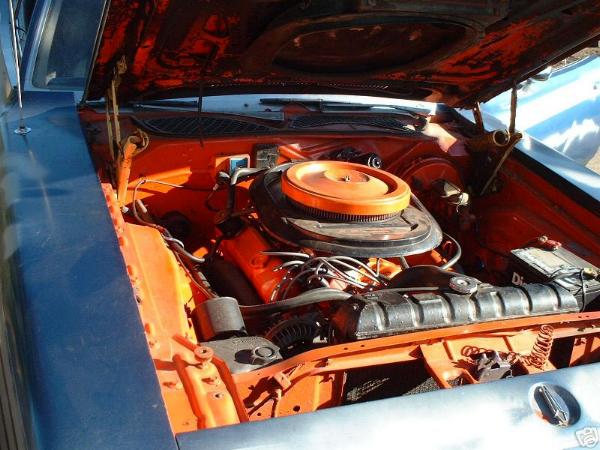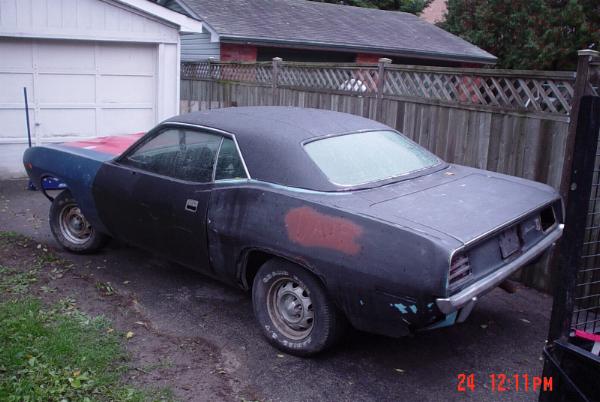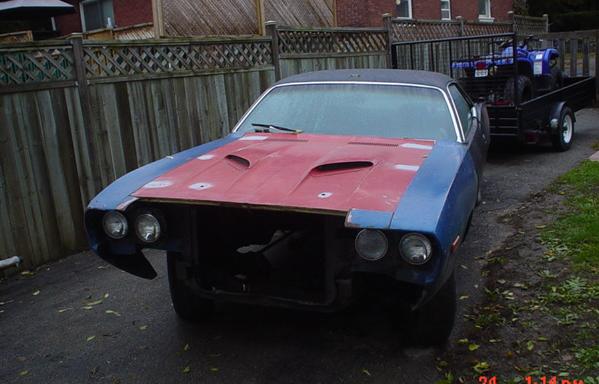 1970 Plymouth Grand Coupe Barracuda.

I have a 70 Barracuda gran coupe which I was going to make a driver out of, but I don't have the time. V.I.N is BP23G0E****** Does not come with motor or tranny. Needs lots of work but is very restorable. Originally purple. Rallye hood, 14" rallye's, 8 3/4 Floors are in very good shape except for the fronts. Needs 1/4's, trunk also, and work around rear plate. Has glass fenders, which seem pretty straight. Torsion bar cross member is ok, but also needs a little welding. I have a good cross member that will go with the car. Rear seats in very good shape, fronts are basically cores missing the tracks. Dash is very good shape. Vinyl roof very good shape, with no visible bubbling underneath. Overhead console, air, missing most parts. Car seems pretty solid. It is located in Ontario Canada. It has a clear title, no broadcast sheet or fender tag. $4800 OBO U.S. funds. I could deliver to the border if needed.
pjm426@sympatico.ca
REDUCED MUST SELL $4000 USD.