Canadian Edition

          Page 76

1972 Plymouth Road Runner.

I found the orange 72 Road Runner only a few days ago about 5 minutes from my home. I don't know anything about it yet, it looks like it is in good condition, but hasn't been driven in a while. I'll have a better look at it and try to find out more.

-Barnabas    

1972 Plymouth Satellite.

The blue 72 Satellite has been sitting for years. I asked about it before and of course it is not for sale. It looks worse and worse every year. It was originally a 318 car that someone cloned into a Road Runner. It has the Road Runner hood with the 340 call outs, stripes, black bucket seat console interior. I was told it has a 360 under the hood.

-Barnabas    

1973 Dodge Challenger.

The orange 73 Challenger is just a parts car. It was originally sitting on the same property as the white 70 RT, which is on page 17. At that time I thought this was also a 70, as it was completely overgrown with weeds. It was a 318 car that someone swapped a 383 into. It is quite rusty and missing many parts. It was bought by the same mopar friend as the yellow 70 Barracuda above. 

-Barnabas    

1973 Dodge Challenger.

The blue 73 or 74 Challenger has also been sitting for a few years. At least this one is in a carport, out of the rain. It looks like it is in pretty good condition. It has been sitting with the hood open for months now. I never asked about this one.

-Barnabas    

1973 Dodge Challenger.

The yellow 73 or 74 Challenger was sitting around the corner from where this picture was taken in the parking lot of a run down building. There was also another totally identical Challenger parked beside it. I believe these cars were used in a movie or TV series, as they had some paperwork sitting on the dash suggesting it. It said "Outer Limits Productions  movie car" or something like that. Both cars had lots of bondo in them probably covering up rust. I saw these cars first about 3 months ago, I went back and to my surprise one has been put back on the road. It must have horrible handling with that suspension. The K-member is practically scraping the ground, and the rear is about a mile high! The other car disappeared.

-Barnabas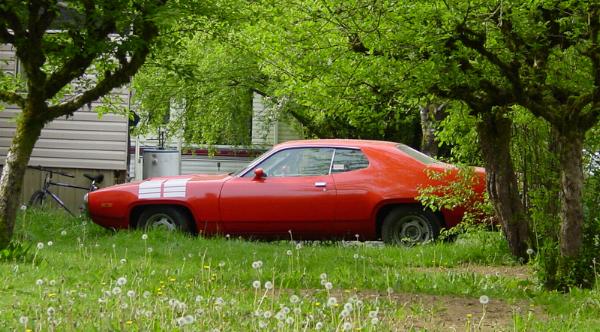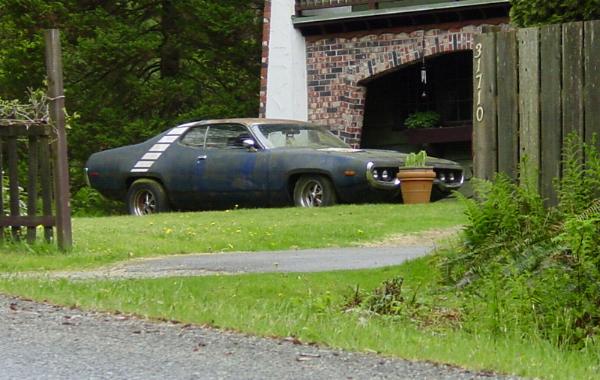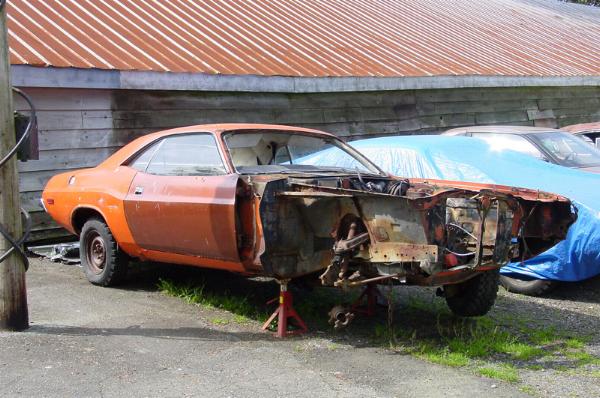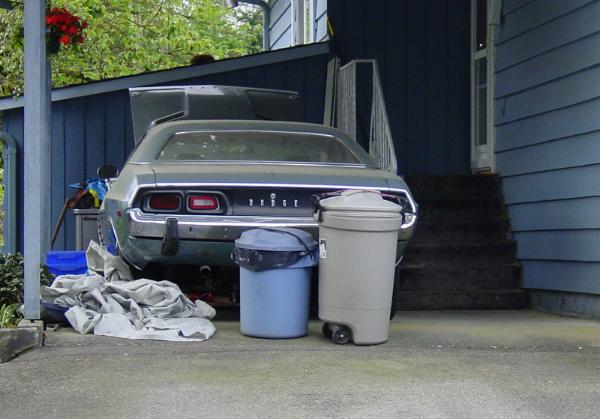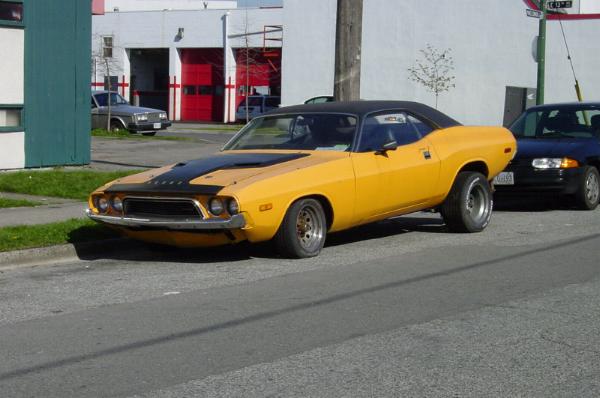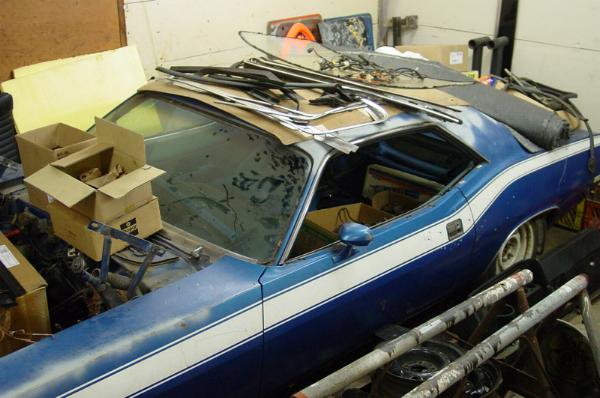 1972 Plymouth 'Cuda 340.

The blue 72 cuda 340 is my own Cars in Barns Car! I owned this one since 1996, and haven't done anything with is since! It is always put aside as I have other more exciting projects. At least I store it inside, nice and dry! Also I saved it from a certain date with the crusher. The body is very solid, only needs a new trunk floor, still has the original paint. I found the broadcast sheet inside. It is coded for the following: 340, automatic with console, 3.55 axle package, disc brakes, B5 blue in and out, V6W white stripes, tinted glass, light group, all exterior moldings, lt/rt painted mirrors, and radio delete! This was an ordered car. This will be a very sharp car once I get around to it.

-Barnabas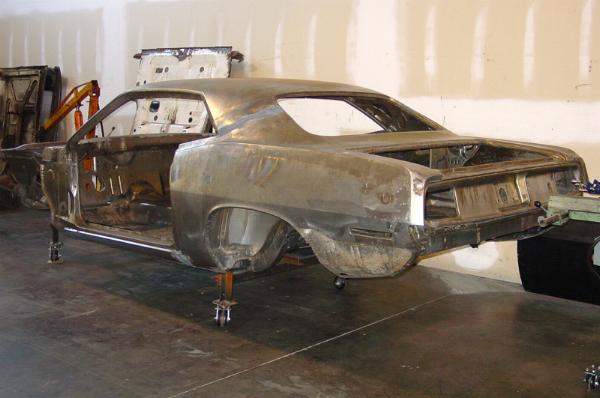 1970 Plymouth 'Cuda 340.

Also last, here is an update on the 340 4-speed cuda from
Page 17
. I am currently working on it, and have collected most parts for the resto. The body was dipped about 2 weeks ago. It has more rust than I expected, but it will be fixed shortly. I already have mint rust free replacement panels. Once all the sheetmetal work is done, it will go back to Redi Strip for a final derusting and phosphate coating. Then it is ready for primer and paint, hopefully this summer or fall. It will be restored to the same level as my RT SE or better! The body will be all original, but the drive train will be upgraded (but detailed to look almost stock).
-Barnabas    

Thanks so much for all the great pics Barnabas!!! They are awesome!!! Barnabas tells me he took all these pictures in the past month or so. All these cars are right here in the greater Vancouver area. Looks like there are still a lot of old mopars out there. Keep us updated!!!

-Dave