Canadian Edition

           Page 17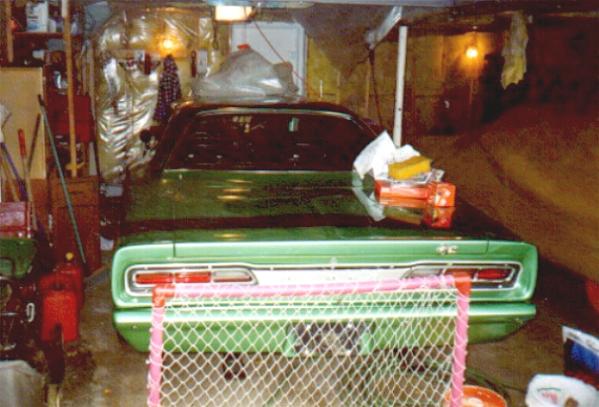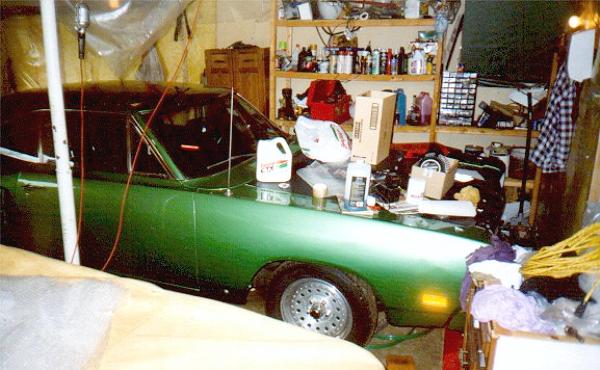 1969-1/2 Dodge Super Bee.

Busted!!! This is my own car...err actually its Kristina's car...yeah thats it...its Kristina's car !!! Notice how she is neglecting it, uncovered, stuff piled on it etc.

Look on my side of the garage, covered, well stored Road Runner...her side is just a mess!!!!  Believe me she is not the easiest person to live with, but she has a very cool car...I guess I will keep them both around for now.

But do you think I should take it away from her?????

As you can see I got some work to do...I really need to finish putting the drywall, more lighting and some better storage/shelving/cabinets.

How embarrassing!!!  For those who have been wondering what kind of shop a backyard hack works out of...well you will be hard pressed to find a better (or worst) example!!!

If you would like to see more of this car...click
here
.
If you got any spare Super Bee parts kicking around...let me know...i'd be happy to kick them around my garage for awhile!!!

1970 Plymouth 'Cuda 340 4-speed.

Here's another recently found car and this is its story:

The picture was taken the day I bought the car, on the previous owner's property. It was sitting in a backyard in Vancouver. A friend of mine found the car, and put me in touch with the owner. As I mentioned before, it is a real Cuda 340 4-speed car, it was originally FK5 Burnt Orange, with black interior. It has some decent options, A31 high performance axle package, A62 rallye dash, B41 disc brakes, C16 console, G36 lt/rt painted mirrors, J45 hood pins, N25 engine block heater, S15 hemi suspension, plus all the typical cuda stuff. The car is really solid and near rust free. The original rallye hood came with it.

The car was last driven in 1979! It was sold new in the Yukon, that is where the previous owner bought it in 1975. It was stored inside for most of the time, he moved it outside in the last year or so. He knew very little about the car, other than it is something valuable. I found the broadcast sheet in the back seat. This one will be restored to show quality.

-Barnabas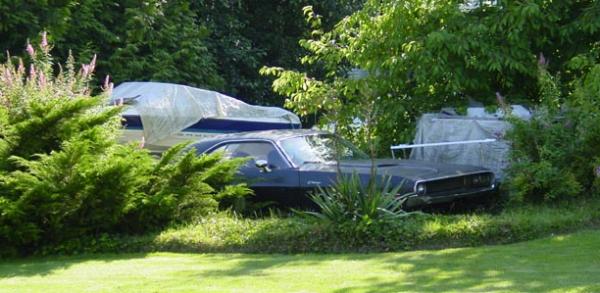 1970 Dodge Challenger.

The black 70 Challenger is just a plain 318 car, it has been sitting in the same spot for at least 10-12 years. I never had a chance to talk to the owner, but I did leave a note on his door before. I never got a reply. The car is 100% complete, but is beginning to rust quite badly. It could still be saved, but I guess the owner would prefer to see it rot.

-Barnabas

1970 Dodge Challenger R/T.

The white 70 Challenger RT is a factory 383 automatic car, JS23N0B. It is 99.9% complete, the quarters have some rust, but would make a good project car. Looks like it was factory white with a black interior. It has the rallye dash, AM 8-track, rear defroster, console, rallye wheels. I didn't see the fendertag, as the owner wasn't there. Again it has been sitting for at least 8-9 years. I left a note there last year, it was never answered. I'll try to contact the owner again, but usually no one is at home. Also there is another gutted 70 Challenger shell sitting on the same property.

-Barnabas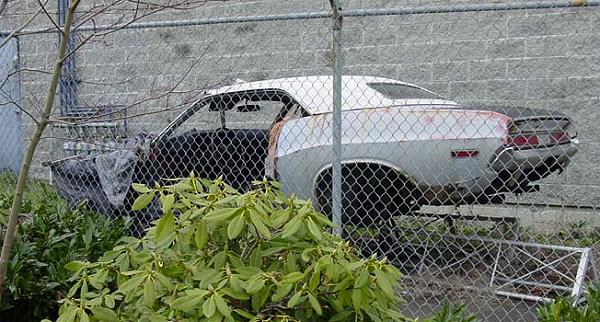 1970 Dodge Challenger SE.

The primer grey 70 Challenger SE is probably too far gone to save. It is missing a lot of parts, and the original VIN tag is gone as well. It has been sitting in the same spot for over 10 years. I talked to the owner, he's not willing to sell. He says he will restore it someday. I don't think so. It was supposed to be a 340 car. It does have a small block in it and dual exhaust. Looks like it was black with a white vinyl roof and a burnt orange interior, an interesting combination. The dash has been replaced by a 71-74 black dash. The overhead console is still there. It would still make a decent parts car.

-Barnabas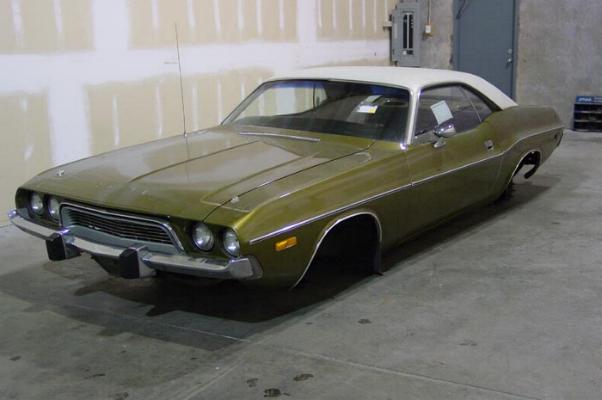 1974 Dodge Challenger.

I bought the gold 74 Challenger out of a wrecking yard a few months ago. It is a 318/auto, with white interior. It has the console, and very few other options. The picture was taken in my shop. This is the "good" side, the other side has been hit pretty hard, but it is definitely repairable. This car is about 95% complete, and it is incredibly clean and rust free. You're looking at the original paint, vinyl

roof, trim etc, and it's mint! The odometer shows 72,000 miles which I believe is correct. It is an insurance company write-off, so it may be difficult to have it registered again. I'm currently working on it. If I can get it re-registered, I will repeair it and use it as a fair weather daily driver. It not, then I will reluctantly part it out, but that would be a shame as it is really clean. I paid $1000 for it, so I can't go wrong.

-Barnabas