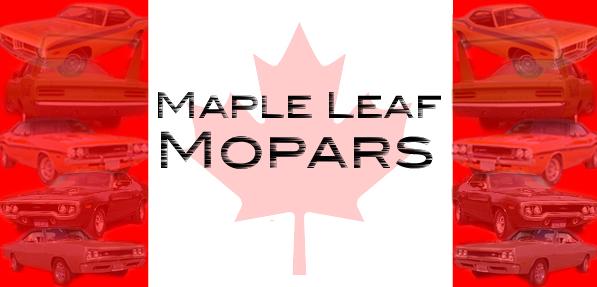 1967 Dodge Coronet Convertible. 

OK, this one was mine...

I bought this car for $25 in November 1979 one week before the famous train derailment in Mississauga, Ontario (Nov. 11).  It had a flat tire and a blown 273 in it.  It was originally a Montreal car.  It had high-back bucket seats and console from a '70 Charger.

I was trying to get the rear left flat tire off and could not budge the wheel nuts.  My neighbour, who knows nothing about cars, walked across the street, and after watching me struggle for a while, said "Why don't you turn them the other way?".  I replied with "What are you, a smart ass?".  But then I realized he was right: I had forgotten that early Mopars have reverse wheel stud threads on the left side.  But he didn't know that...and gee, didn't they come off right away when I turned the wheel nuts to the right?

I took it to my high school where I bought a 318 rebuilt by students from our shop teacher for $125.  I drove it home for a total investment of $150.

I would later sell it back to him, and still later buy it back a second time.  Then I sold it to him a second time, but he dipped it and only 3/4 of the car came back out of the tank.  R.I.P.

-Pete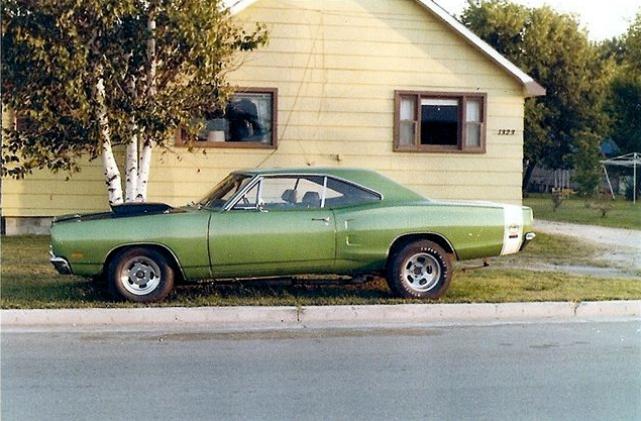 1969 Dodge Super Bee Six Pack.

Some pics of my brothers old Six Pack Bee. Originally from Ontario, and believed to be in the Winnipeg, Manitoba area now.

The car was bought new in Fort Frances, Ontario and was here till the mid 80"s. Was then sold out of town (Atikokan, Ont) but the owner moved to Winnipeg, Manitoba. I lost track of it from there, but heard through the grapevine a Bee matching its description was pulled from a wrecking yard in Manitoba and was going through a total restoration. Not sure of the VIN, but it was a black interior, bench seat, 4-speed car. If anyone knows anything about this car i would sure like to hear about it as I would love to see it again. My brother let me use this car for 2 summers when i was 16 & 17and i have a lot of fun memories with it.

Thanks,

Mark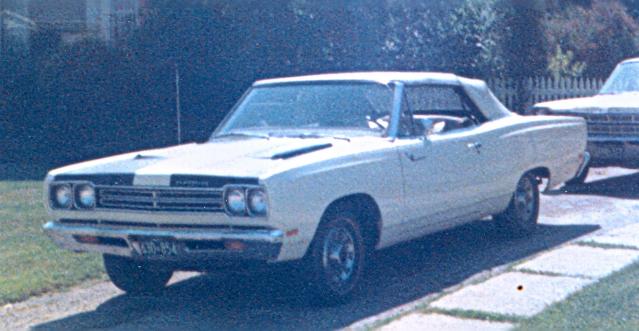 1969 Plymouth Road Runner Convertible

I was working at a car leasing company in '85 and got talking to an Accountant there about cars, per chance, a subject I was sure he probably knew nothing about.  Turns out he bought a brand new '69 Road Runner 4 speed convertible brand new back in '69, and gave me some pictures of it for my car reference material collection.  I was "Wow'd".

Footnote to the story...a young and gorgeous tall blond also worked in accounting there.  I happened to mention to her that I had a '67 Coronet and she turned to me and said "Does it have a Hemi?".  I asked her back "You know what a Hemi is?".    She proceeded to tell me that her boyfriend used to have a '67 Coronet with a Hemi.  She brought me lots of detail on it later that week.  Turns out it was an ultra-rare '67 WO23 Factory Super Stock Coronet 440 series.  I was really "Wow'd!!!"  It even had the ahead-of-its-time Prestolite Electronic Ignition, which I believe wasn't standard on Chrysler cars until '72.

-Pete

1968 Plymouth GTX.

Here's a good story for you...I worked in Port McNeill until recently (25 minutes south of Port Hardy on Vancouver) and found out that someone at my work there once owned this beautiful '68 GTX 440 automatic car (a car rarely seen in this colour, I might add).  Back in the day this car was street raced from Victoria all the way up to the North Island.  He told me very recently that there was this Hemi Super Bee up in Port Hardy and that at some point they drag raced each other on the straight stretch of the two lane highway right outside Port McNeill.  Now, you have to understand that very small Port Hardy is 250 miles north of anywhere/any normal size town that would have had its share of muscle cars in it, so this legendary 440 vs. 426 Mopar drag race was an Extraordinary event, to be sure.

Well wouldn't you know I was sifting through your "Mopars In Barns" section today and came across this '69 Hemi Super Bee originally shipped to the Very Unlikely destination of Port Hardy!  This must, without a doubt, have been the Hemi Super Bee told in tales-of-old.  I didn't know that Port Hardy ever had a Chrysler dealership and I have lived in the North Island for 15 years now and first worked here for the Chrysler dealer down-island that is closest to Port Hardy...So where the Super Bee was originally shipped to in Port Hardy is a real mystery to me.  We are talking about a town that is so small that it only has one traffic light, 40 years after that Super Bee was first built...

I will follow up on all this to see what I can find out..

-Pete