Canadian Edition

           Page 41

1970 Plymouth Daytona Clone???

Ok you got me but this is the ad as it appears on ebay:

1979 PLYMOUTH SS DAYTONA CLONE,STREET LEGAL RACE CAR,FULL CAGE, TUBBED,ALL ALLUMINUM INTERIOR,CENTRELINES,14/32 DRAG SLICKS,WHEELIE BARS,PARACHUTE,NITROUS STAGE 3,RACE TRANS WITH CONVERTER,RECAROS WITH 5POINT HARNESS, 600 WATT STEREO, FUEL CELL, ALL AUTOMETER GAUGES THAT ARE MADE INCLUDING TACH AND SPEEDO, HAVE OWNED THIS CAR 25 YEARS, ALWAYS STREET DRIVEN AND RACED, NEW ENGINE AVAILABLE WITH CAR,440 MAGNUM STAGE 4 HEADS, FULL ROLLER DRIVETRAIN,TUNNEL RAM WITH 2-600 HOLLEYS AND STAGE 3 NITROUS PLATES, VELOCITY STACKS

$8500.00 WITHOUT MOTOR OR $12,500.00 WITH NEW MOTOR-0 MILES

CAR RAN CONSISTENT 11.3 WITH SAME MOTOR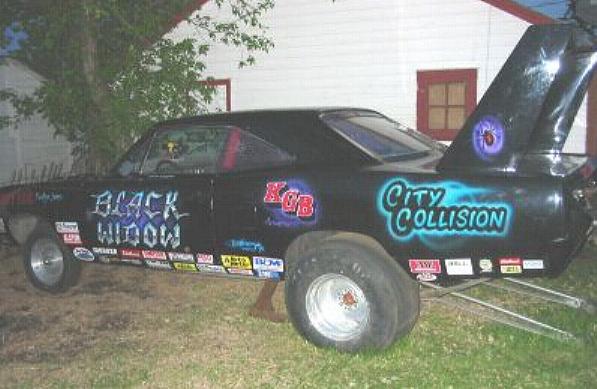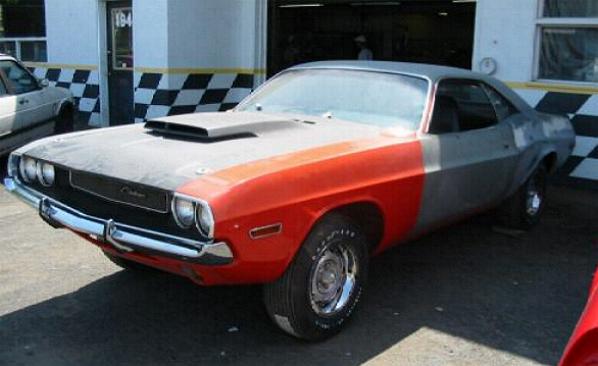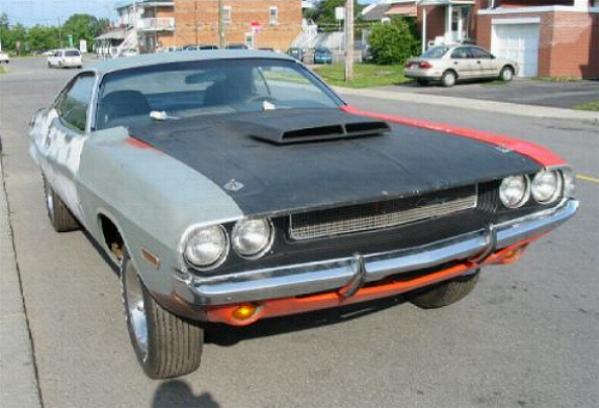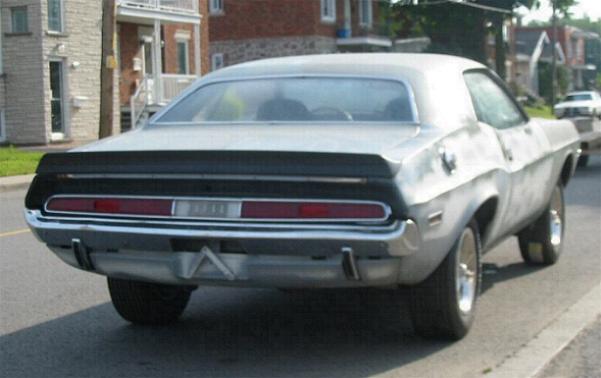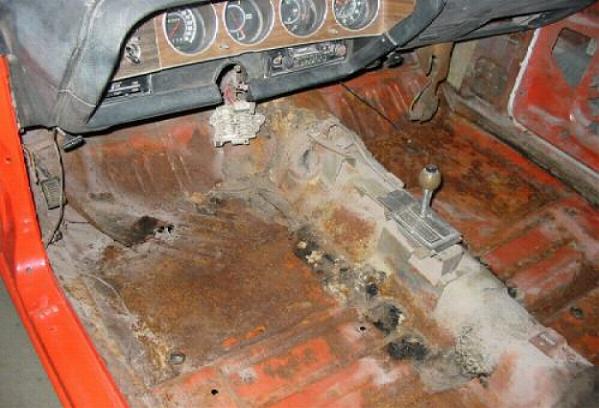 1970 Dodge Challenger T/A.

I found this one on ebay too.

It didn't hit the reserve and was bid up to $12,600 USD.

Here's the ad:

You are bidding on a 1970 DODGE CHALLENGER T/A 340 SIX PACK automatic, power steering, power disc brake, rally dash, bucket seat console, black interior and orange exterior. This car has been in storage since 1976. They engine is long gone but here what are include in the deal. I have the intake manifold, 3 carb without the vacuum diaphragm housing, i have the top plate of the air cleaner only, 2 original exhaust manifold, crank and water pump pulley, i have a late 71 transmission with the crossmember, the drive shaft, a not original recored 26 inches rad, the clutch fan,and a reproduction battery, what is missing now: the engine, power steering pump but maybe available at extra cost, the 2 horn, windsheild washer bottle, trottle linkage. I have a friend who have an empty block with a set of complete heads at extra cost. There are 4 new complete wheels and tire  on the pictures that are not include in the auction but can be available at extra cost. I didn't find any broadcast sheet and the last owner lost the fender tags. This car look to be original Hemi orange or maybe go mango.

Here is the goodnews. The body is very solid and need only a driver floor pan , the trunk pan, 2 small patches 3inches by 3 inches both side on top of the firewall where the front fender are bolted. The transmission tunel need a little repair because this was put 4 speed back in the 70' and was retransformed automatic and the didn't do a good job. There is a NOS replacement front left fender and like new R/T right front fender, the left door is like new and rust free, the right door has a small hole near the lower hinge inside, the center of the firewall is rust free as the windshield contour, the back glass contour is also rust free, the rocker panel are like new, rear deck lid is 72-73 rust free, front and rear valence are pretty nice, other floor pans are pretty nice too with some small cracks, the top is rust free, the rear quarters was flare by the original owner so the need a little attention, the front and rear frame rails are very nice, same for the torque boxes and torsion bar crossmember. The is an original and was repair where the hinges are bolted. The spings for the hood hinges are incorect. Check out the picture for additionnal info. If you any question feel free to email me. This car need complete but easy restoration. I'm the owner of a professionnal restoration shop specialised in mopar restoration, we can restore it for you. We do a lot of 440-6pack car and Hemi car. We presently restore a 71 Hemicuda 4 speed, plumcrazy, white interior, white vynil top, white billboard and dogdish steel wheels. Thanks bidding on this car and good luck! Other picture are available just email me.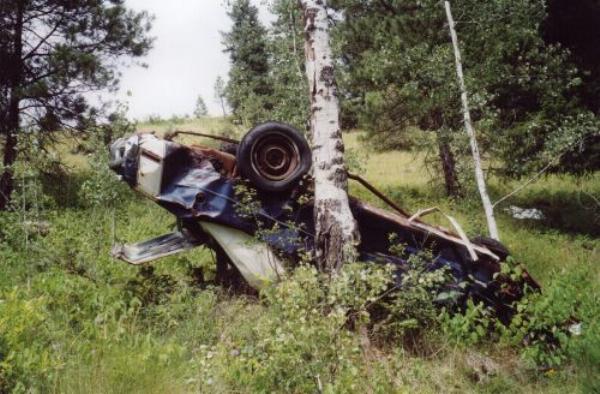 1971 Plymouth Scamp.

Here is a picture of a 1970 (1971?) Plymouth Scamp I found in the boonies outside Lumby, BC.  According to a local, hippies used to roll cars down this steep hill for kicks back in the mid-seventies.

This unfortunate victim was a six-cylinder auto, B-7 blue with a white vinyl roof and a white bumble bee stripe.

-Ken