Here is the decode:

07144-gate and base number for a Lynch Rd car

269553-line sequence number for a Lynch Rd car

9-model year, 1969

A-assembled at Lynch Rd, Michigan

270xxx-serial number

926-383 4bbl engine with auto tranny

999-4:10 sure grip Dana axle with 11" rear drum brakes

93-3 speed auto tranny

26-26" radiator

A12-engine conversion package 440 3-2bbl: HD 11" drum brakes, 18 spline 4 speed tranny, 4:10 sure grip Dana, 383 4bbl engine replaced by 440 engine with 3-2bbl Holley carbs on an Edelbrock alumium intake, 3 speed wipers, 7 blade torque drive fan, max cooling 26" radiator, lift off fiberglass hood, four hood pins, 15x6 JJ black wheels with chrome lugnuts, G70x15 Red Streak tires. Special order car.

8X-black bumble bee stripe

C16-console

F6-Bright Green metallic painted roof

F6-Bright Green metallic painted body

M6X-black vinyl buckets

X9-black door frame

WM23-Super Bee hardtop

E63-383 HP engine

D32-3 speed auto tranny

426-scheduled production date, Saturday April 26th 1969.

924403-vehicle order number 

440 SIX PACK Automatic 4:10 Dana
Owner: Dave Carson Brantford, Ontario.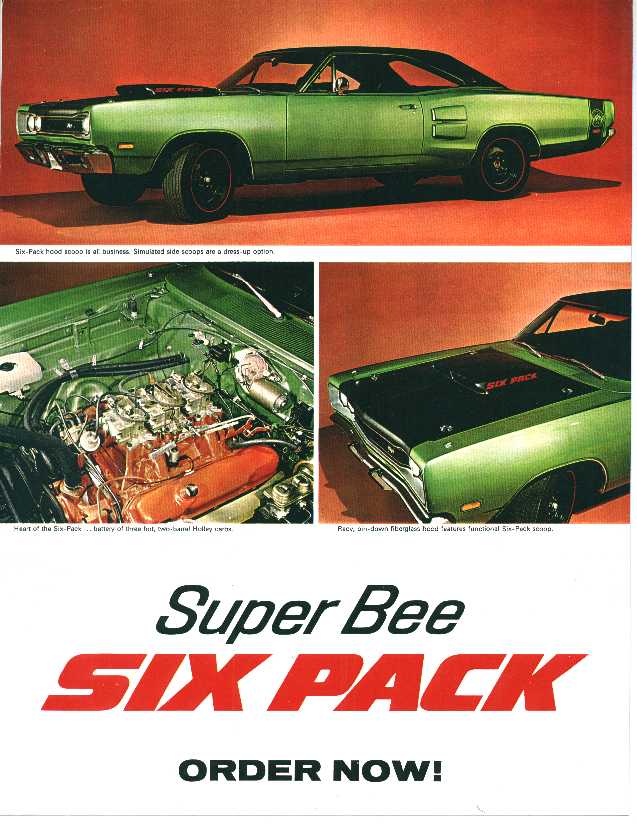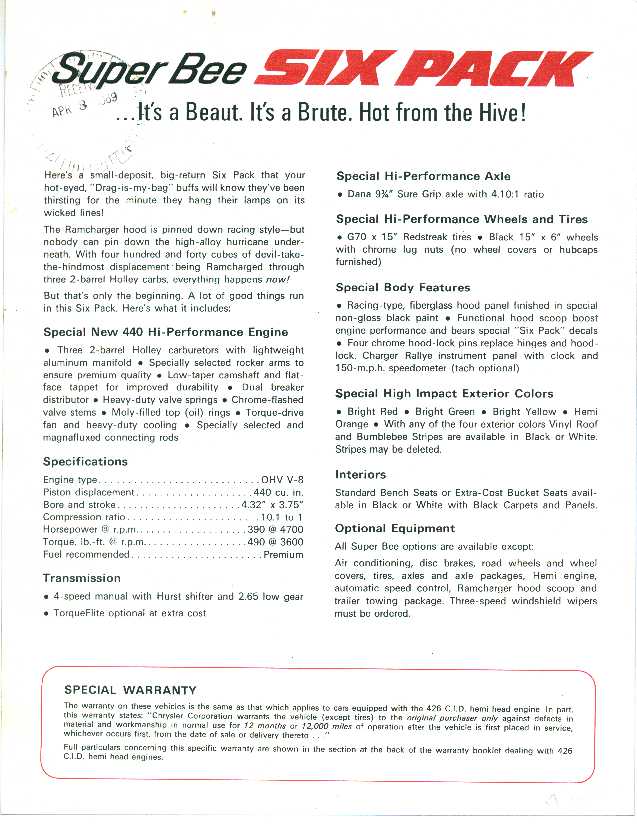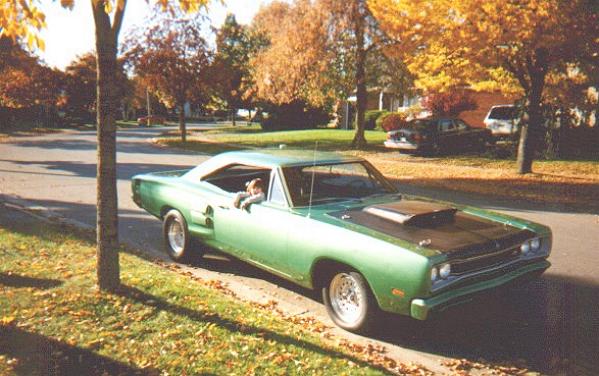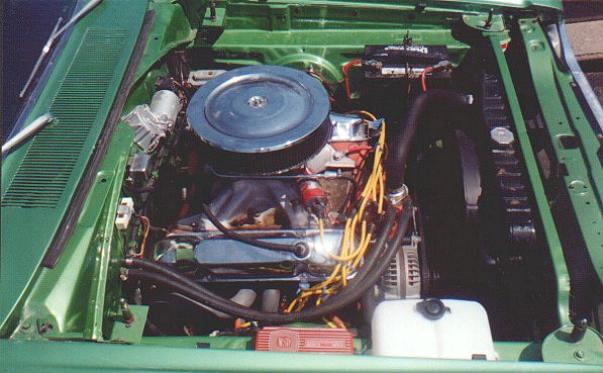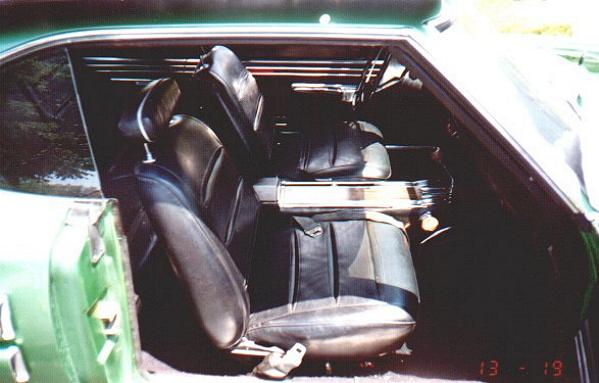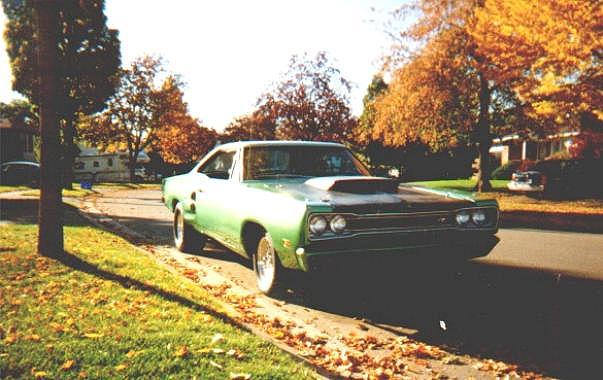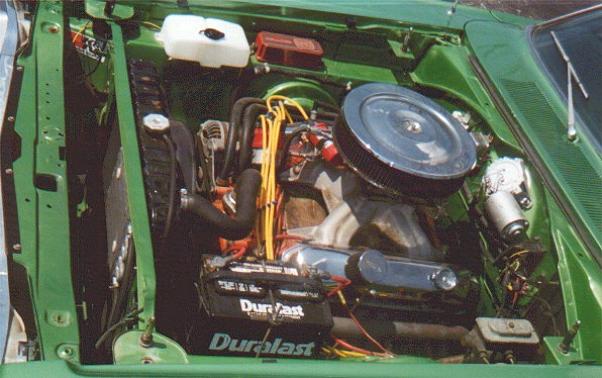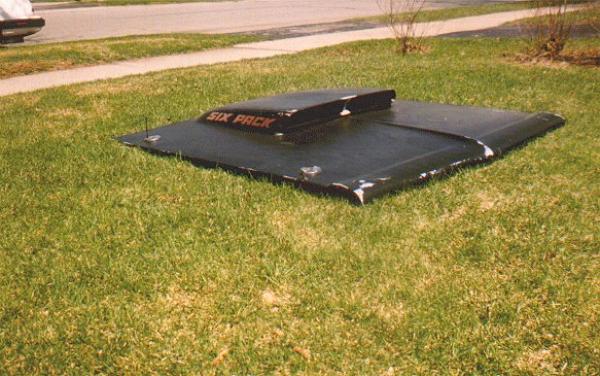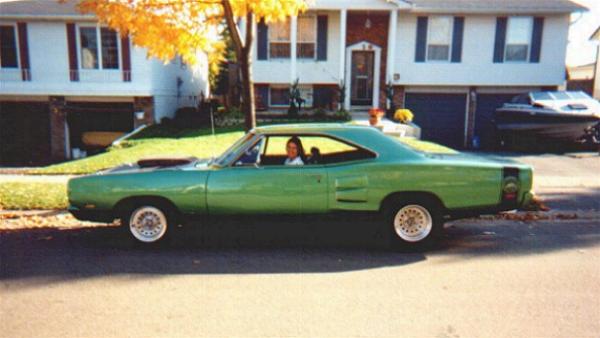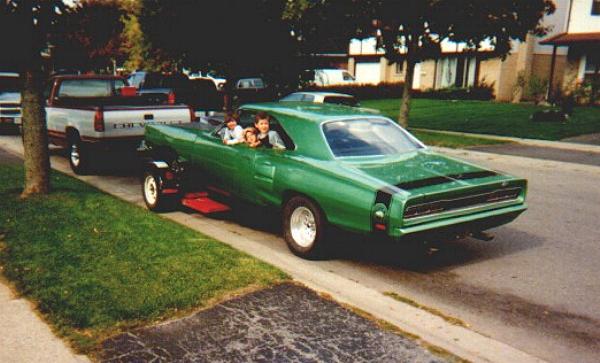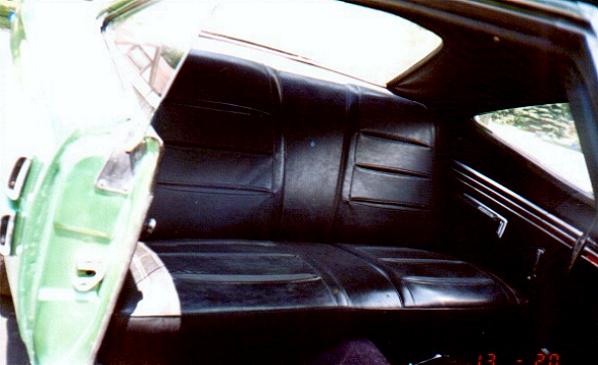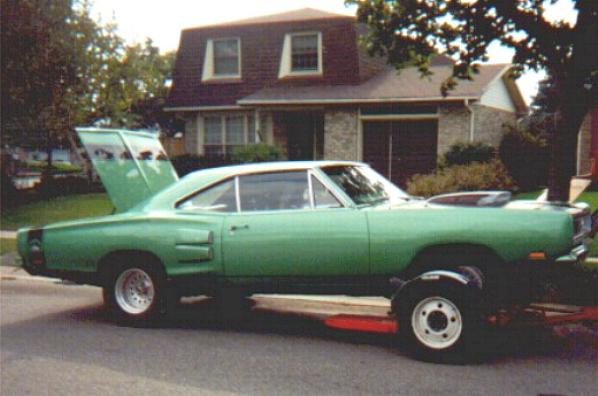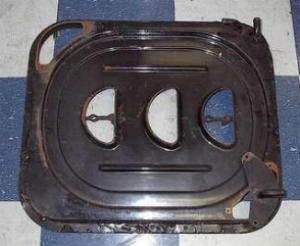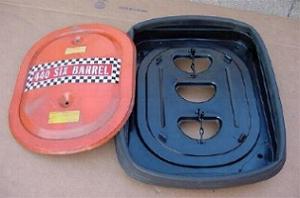 Wanted: Really need this air cleaner!!! Will pay up to $500 USD.

This is the 440 Six Pack Super Bee I bought for Kristina.  We travelled to California, Missouri to pick it up in Sept. 2000. It is painted F6, Bright Green metallic. As you can see she is very happy with my...errr...her new car.

We left Brantford at 6pm on a Friday and got home at 6am Sunday morning.

The car is fairly loaded for a Six Pack car, power steering, buckets, console, fender mounted turn signals, tic toc tack and an AM radio.

It looks like someone had quite a bit of fun with this car in the past...it has a very healthy 1967 440HP engine that I would guess is pushing 450 to 475 horses.

Somewhere along its past journeys it spent time as a 4-speed car and then was switched back to an automatic as it was originally. The bad news of course is that the original engine and tranny are MIA. One day I'd like to locate a 1969 HP block to do a more stock rebuild for a more original look...of course it would be nice to find the original engine but I am not holding my breath. At least the Dana 60 is still there.

Sometime during the early 90's when the car was last painted, I would guess someone decided they liked the looks of the 1968 Charger interior better and recovered the seats with that pattern. You would not believe how hard it is to find those medallions that were located in the seatbacks of the Super Bee bucket seats. When you order new seatcovers they are not included so the search goes on.

For the short term I have been just trying to slowly pick away at all the original parts the car is missing. I am currently looking for the aforementioned air cleaner assembly, six pack set-up, a 054 radiator, wheel lip mouldings, H-code rims, as well as a pair of 15x8 steel wheels, a set of four setback medallions, a wood steering wheel, and maybe even a hood. The hood presently on the car has been flipped up and over on more than one occasion in the past.

It would also be great just to get the Bee on the road and start enjoying it although I would like to at least get a few cosmetic changes done to it first such as getting the bumpers rechromed.