Canadian Edition

          Page 67

1970 Plymouth Hemicuda Convertible.

Here is a picture of the 1970 HemiCuda conv.with the H6T5 interior back in the late 80's. Totally stripped down and an awesome (Not!) Red metalflake paint job from the 70's. Car was in Winnipeg at that time under the caring hands of one "SS" and his cohorts (Not!)

One day a couple of years later at work, I was looking at a Mopar magazine when one of my co-workers looks over my shoulder and asks,"What kind of car is that?". I said it was a 1970 HemiCuda convertible and he replyed "Oh... my buddy had one of those".

Now who hasn't had someone say something absurd like that to them.

So I questioned him further and he ended up giving me his buddies phone number. I called him (Joe) that evening and here is the story he gave me.

Joe said he bought the car in 1971 for $2800.00 (Twenty Eight Hundred Canadian Dollars) and it had 7000 miles on the clock.

He said when he first owned it he lived in Kitimat B.C. and worked at the mine. On weekends he would drive it down to Terrace B.C. , tune it up at his friends service station and kick butt all weekend. The best match-up he had was against a 70 LS6 Chevelle but he said he never lost a race.

He sold the car in 76 or 77 to Gord Manyard in Prince Albert, Saskatchewan for $3000.00 (Three Thousand Canadian Dollars) with around 11000 miles on it.

Gordon owned the car when I took the attached picture of it in Winnipeg.

Fast forward to 2004. I'm at a funeral for an ex co-worker and a bunch of us go for coffee and start talking about the past. One of the ticket agents I'd known for about 25 years (we worked in the airline industry) said he used to be based in Terrace B.C. back in the mid 70's.

He starts to tell me this story about a butt ugly Yellow with Tan interior Cuda convertible that used to terrorize the streets of Terrace. It was always going a million miles an hour and racing everything in sight. Although he remembered many musclecars from the period, that was the only car that really stood out in his mind because it was quicker than stink.

After I told him the rest of that cars history and what similar Cudas were selling for he couldn't believe it. "How could a car be worth that much money", he asked?

Personally, I think the first owner and Joe in Kitimat got their moneys worth out of that car just by driving it. Joe had no regrets selling it because he did what you were supposed to do with a car like that. Drive it hard, scare the (I Love Moparts) out of the competition and create memories that last a lifetime.

So anyway, it seems that since 1976/77 it's hardly turned a wheel and now that it's been restored it's likely to be a statue for the rest of it's life. Kind of a sad end for a car that used to stretch it's legs regularly. Oh well I guess the clones will be out there to pick up the slack.

Doug Lepak

The Steering Wheel Guy

Specializing in Mopar wood grain steering wheels

An interesting little tidbit about the car:

It is a known fact that Legendary replaced the original transmission cooler with a repro unit since the original was showing its age and had some bent fins.  A friend of mine bought the original cooler at last years's fall Barrie show for $100.00 !! from someone who got it from Legendary.  The cooler has traces of red metalflake paint on it from when it was painted that color and is actually in very good shape and no he wont sell it. I tried in vain!!!

-Terry

1970 Plymouth Hemicuda Convertible.

Here's one of the original Hemicuda convertibles that was sold new in Canada.

It was a Lemon Twist 4-speed car. Here's part of its interesting history:

It belonged to a guy from British Columbia. He traded a 1970 Shelby Mustang for it straight up in 1971. The car was sold to a well known collector from Michigan about 4 years ago. The gentleman from BC was so paranoid of getting it stolen in the years before he sold it, that he built and sealed it in concrete tomb in a basement. When it was shipped out of Canada it had approximately 37,000 miles on it. Talk about a car in a barn...how many of you know about cars in tombs..really with the prices that these cars command, can you blame the guy????

-Kori

Ok guys that is two of the three shipped to Canada Hemicuda Convertibles for 1970!!!

All three were sold new in beautiful British Columbia, where is car number three???

Is it...."BS27R0B156xxx Y07 Supposable: FJ5, H6XW, V3W I have heard that it had been crushed, yet "part" of it still is out there..." or  is it "For over 20 years I've heard there was a green 70 Hemicuda convert, green interior , very plain car that is in southern Saskatchewan, left outside for years and has a frozen engine" You guys might want to keep checking those sheds, barns, garages, lean to's, fields etc, as it may well still be out there somewhere!!! If you find it or know anything about it how about dropping me a line:
liftoffregistry@hotmail.com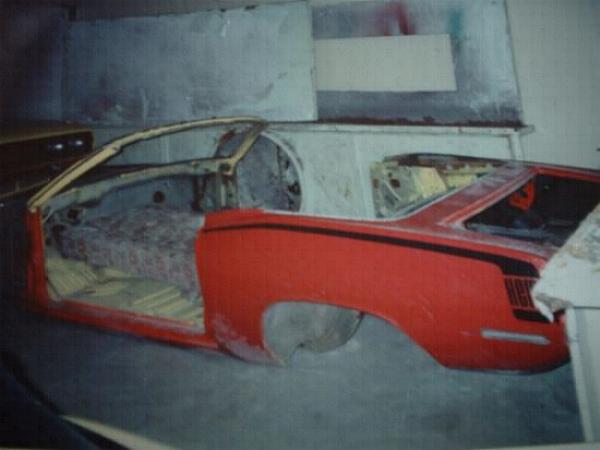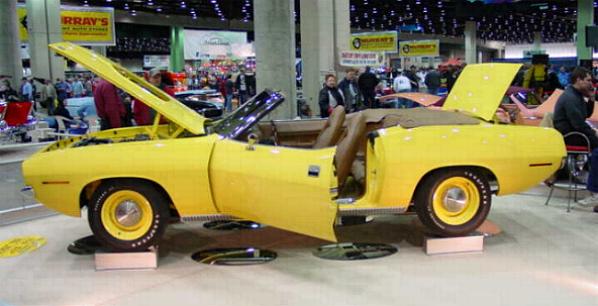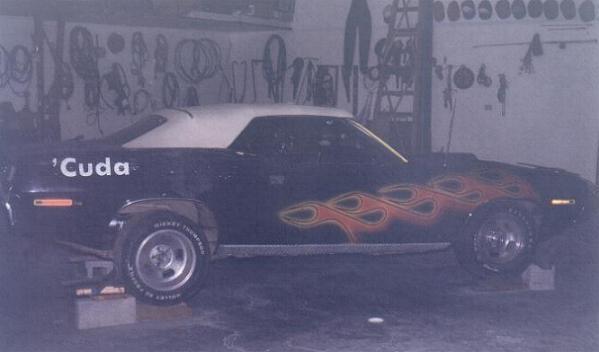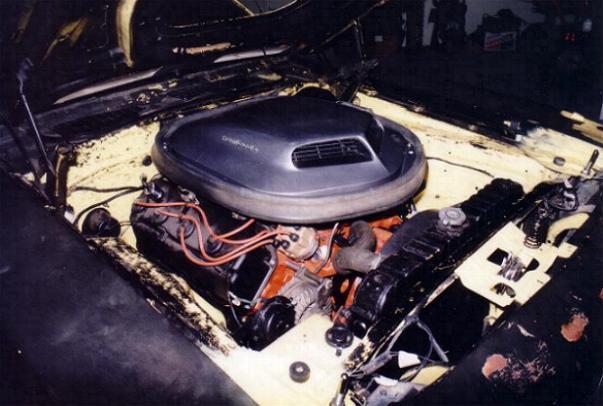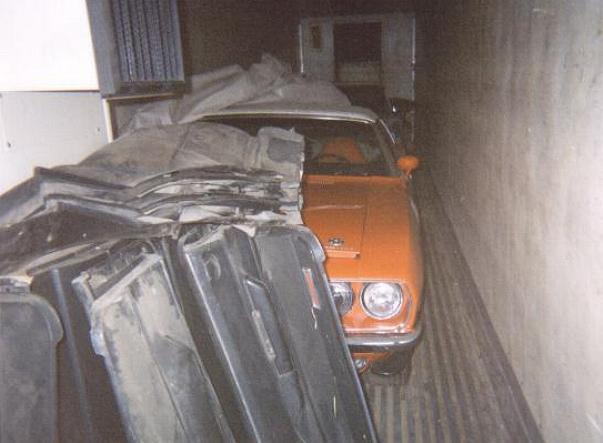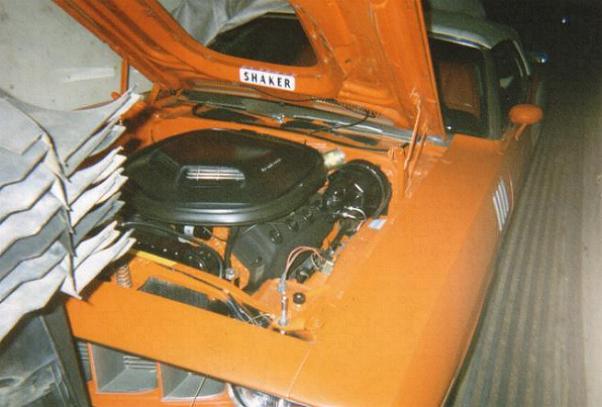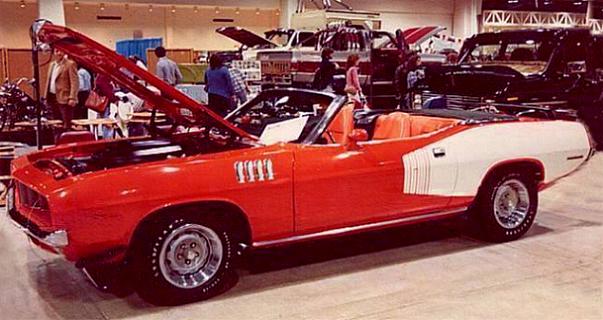 1971 Plymouth Hemicuda Convertible.

Cars in Boxcars????

Probably the most famous and desireable of all the Canadian Hemicuda convertibles. This one was loaded and is just plain striking!!! What a great looking car.

This car has a well published history that includes being traded straight up for a brand new 1984 Corvette....hmmm I wonder who got the best end of that deal???

Not as well known is how the guy who really wanted a new 'Vette came across this Hemicuda...stay tuned as I would like to get the details correct but I believe it was thrown in as an unwanted addition to a real estate purchase...it was left for dead in the garage.

-Kori

Here's a little more to the story!

Regarding Dave Blakes conv, Dave saw it advertised in the back classifieds of Hot Rod magazine in 1984 for $25,000.00 by then owner Wim Overweel from Ontario, Canada. A deal was struck in that price range, because Wim wanted a new 84 Vette and that was close to the sticker price on the one he wanted. Dave did a vehicle search on the car here in Ontario years ago, to locate any previous owners. The car had been ordered and sold new at Centennial Chrysler in Barrie, Ontario and went through a few owners before Wim bought it. One of the owners actually purchased a house with the car included in the garage because the then owner couldn't keep it running, and was glad to unload it!!. The car was covered with drywall sheets, wood strapping, etc as the house had been undergoing renovation. Dave has talked to all the previous owners and he told me there are some great stories in those conversations.

Hey, Terry . . . wasn't the car originally ordered for racing but it took too long to get to the dealership so they chose another one and plopped in a Hemi?

Yes, I've heard that was what the plan was initially. Centennial had a 70 6 pak Cuda convertible they raced and wanted a 71 model. When the Hemi took so long coming, apparantly they changed the taillites, fenders, grill, valance, MOTOR, and campaigned the car as a 71 Hemicuda convertible, and eventually sold the real one and campaigned the 6 pak car as a 71, and eventually sold the 71 Hemicuda convertible.

-Terry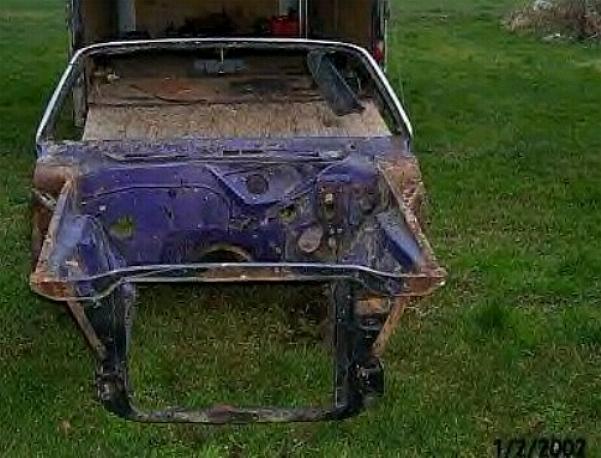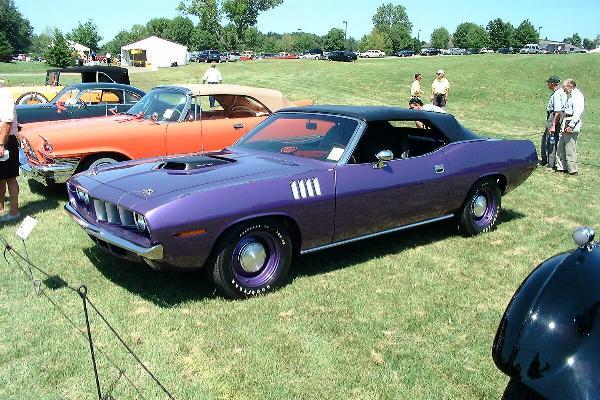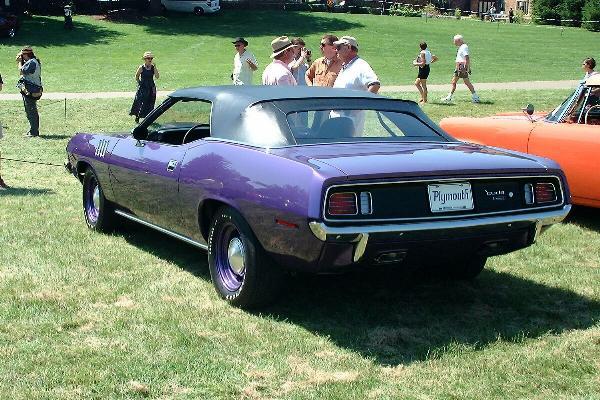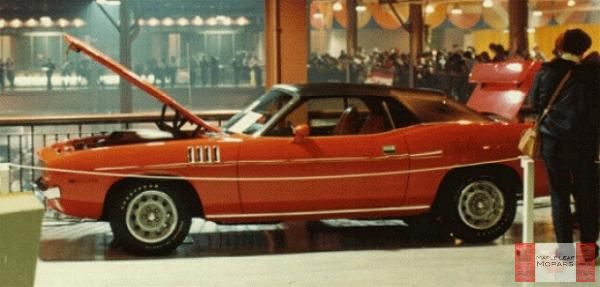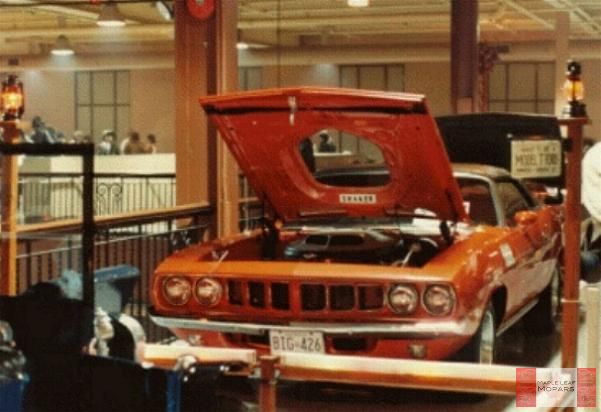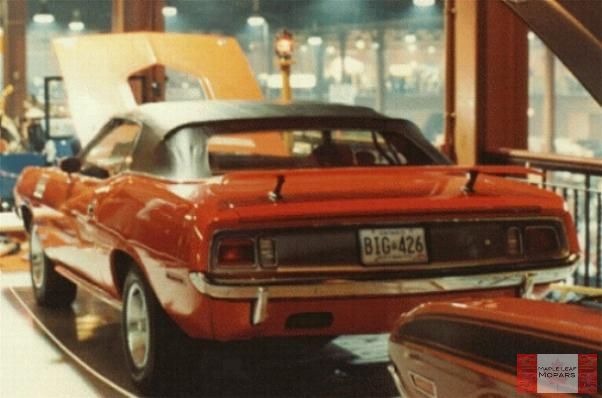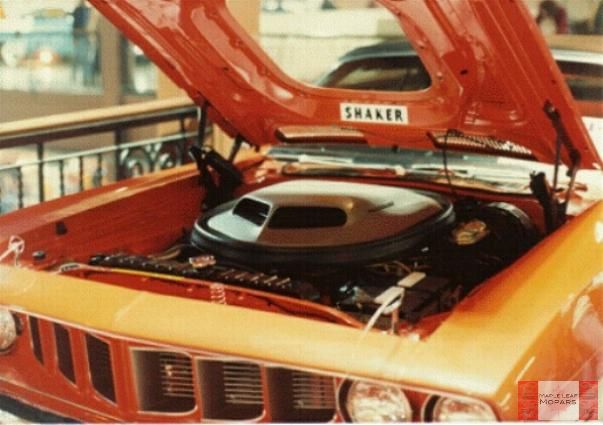 1971 Plymouth Hemicuda Convertible.

Yep this is the real deal well sorta kinda anyhow.

This car was found in British Columbia, not exactly in the same shape it is in today.

These are the two of two shipped new to Canada 1971 Hemicuda Convertibles.

So out of the five original cars I have tracked down stories and pictures of four of them, come out come out where ever you are car number FIVE!!!!