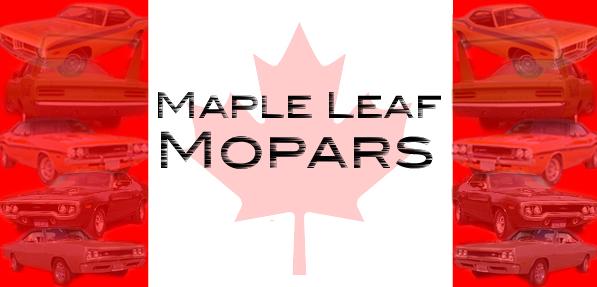 440 4bbl Super Commando 4-Speed 4:10 Dana

Owner: Dave Carson

Location: Brantford Ontario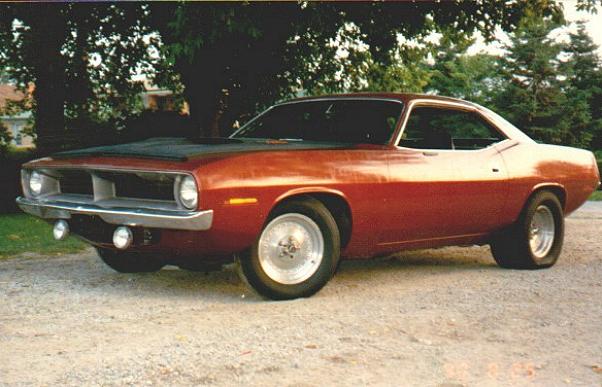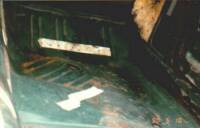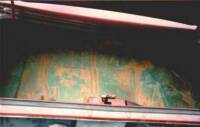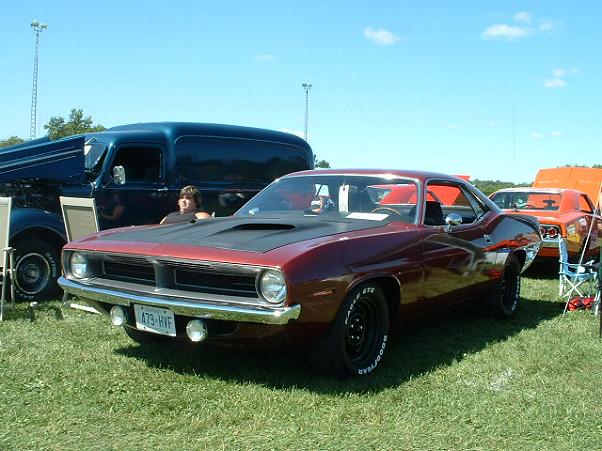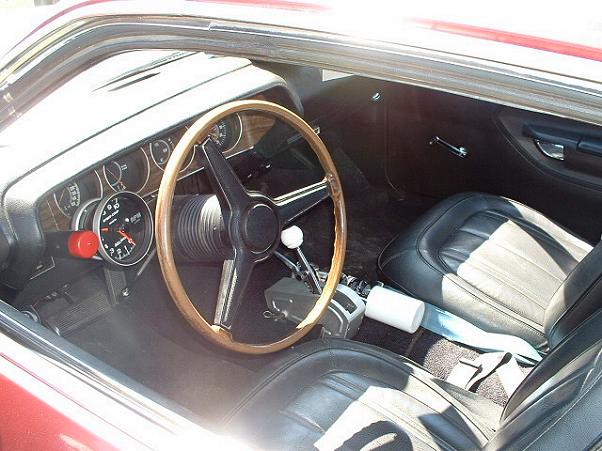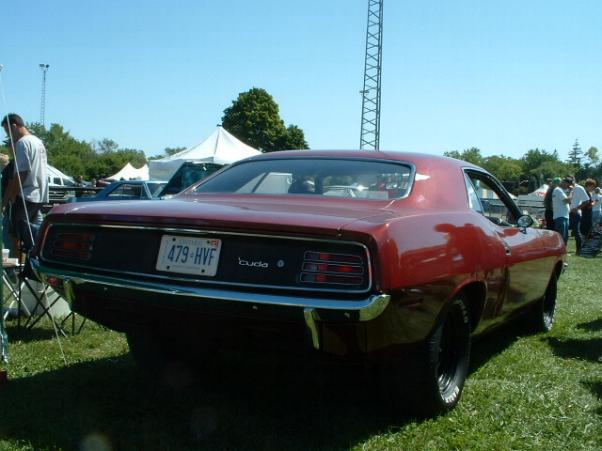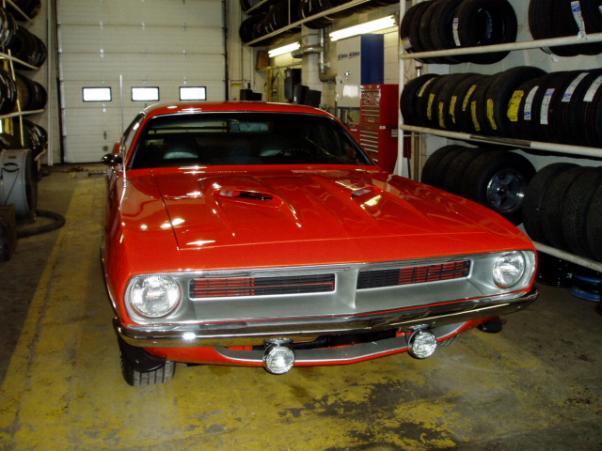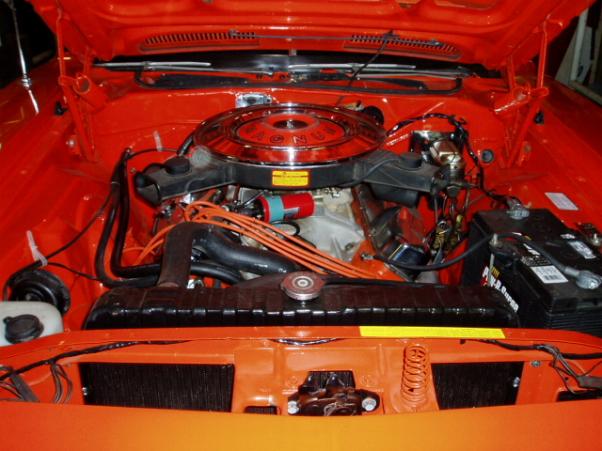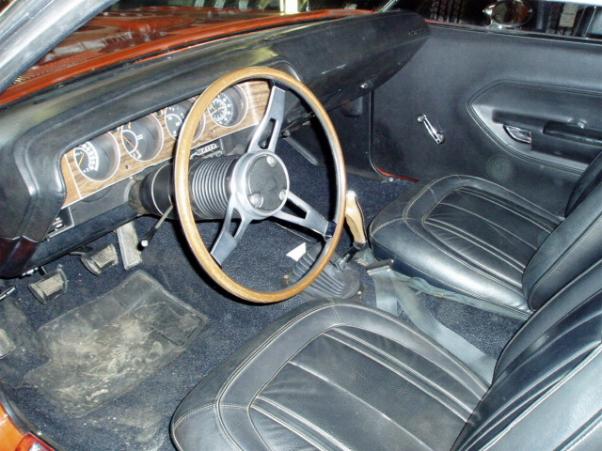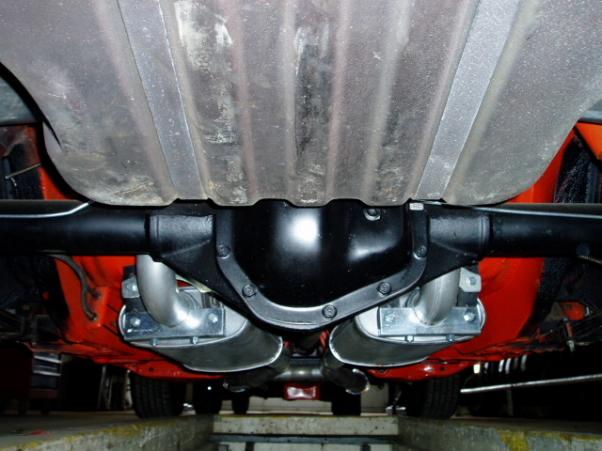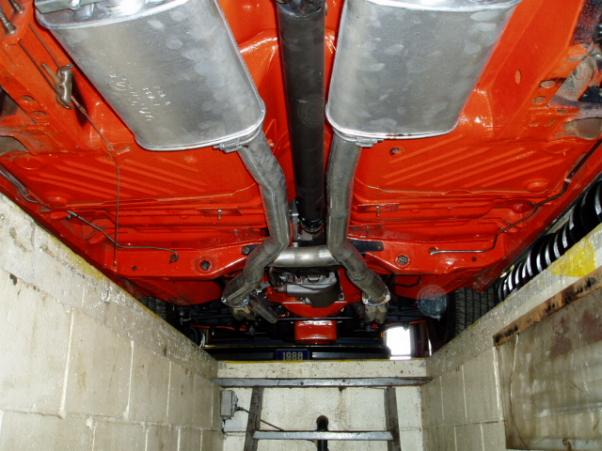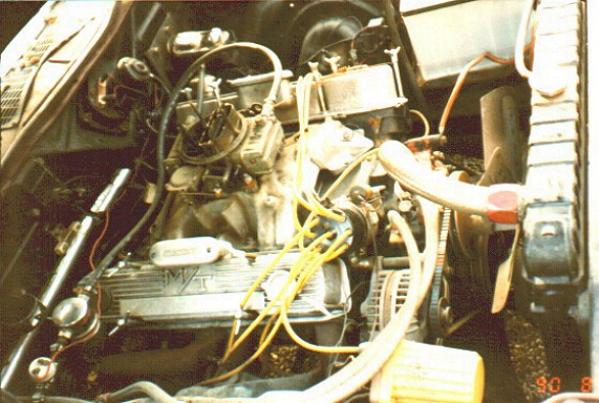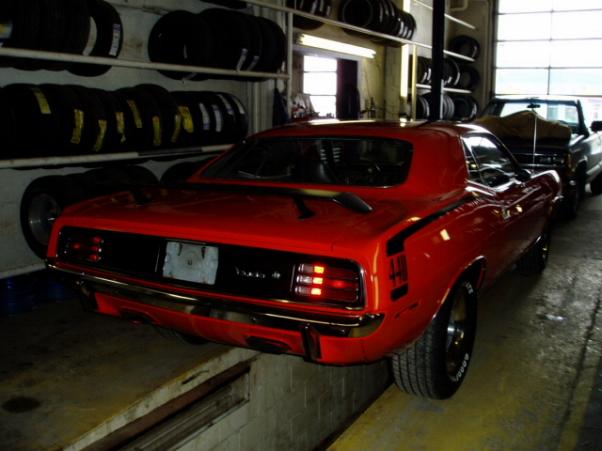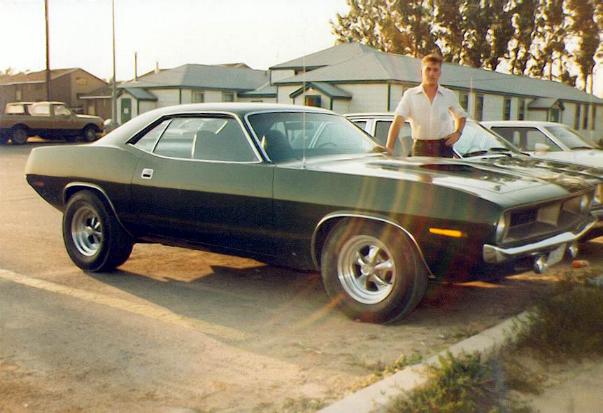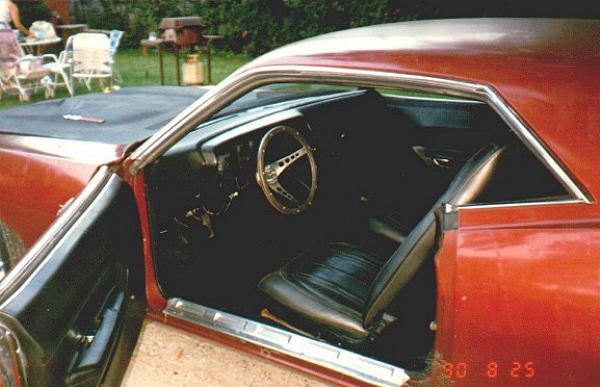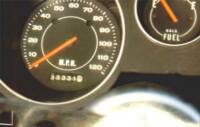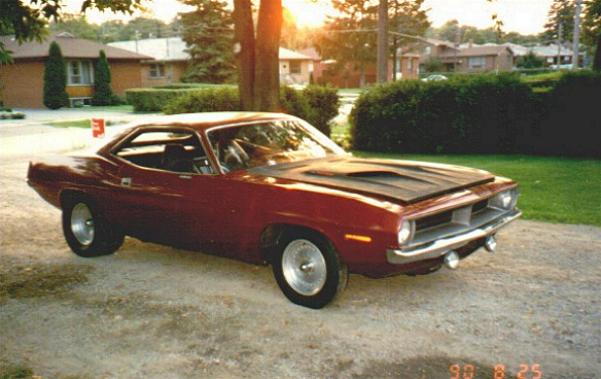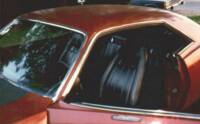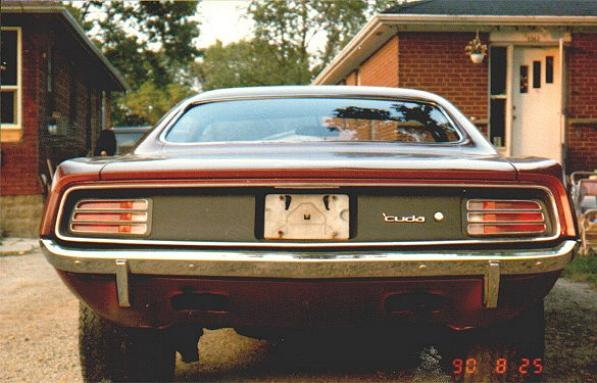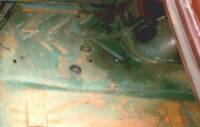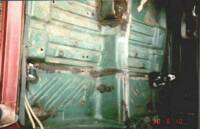 I found this car while flipping through the Auto Trader back in 1989. It was originally an EF8-Ivy Green Metallic 440 4-speed 'Cuda. I bought if from the brother of the owner. He didn't know too much about the car. This 'Cuda was a typical 1970's street machine which I am guessing spent a fair amount of time racing either at the track or on the street! The complete original drivetrain was gone, replaced by a 1969 440, a 727 auto tranny and a 8-3/4 rear end. The car also sported a NO2 system, headers, a aftermarket ignition system etc.  It was built to go!!! Rounding out the underhood and drivetrain modifications were a Pro Stock snorkel pin on fibreglass hood and maybe the worst interior I have ever seen in a car!

I really wish I had taken a picture or two so you could see the horror. To summarize there was shag carpet not only on the floor but on the dash pad! Did I mention that it was GOLD!!! Racing buckets for the two front seats, gold valour material glued to all the door panels and the factory back seat covers. The final touches were the chrome and wood aftermarket steering wheel and the cast iron Lion heads that covered the roll down mechanisms on both inside rear interior quarter  door panels. It was a sad sight indeed!   

Luckily the car came with a complete set of mint doorpanels and a brand new 4-speed carpet! Minutes after arriving home with the car I gutted the interior and put it all in front of the house for garbage! I really didn't want anyone to see it...hey I was just a kid! I might have thrown out a pretty good set of doorpanels under that valour crap...

Keeping with the interior I quickly wanted to get an interior back into the car and started my search for a set of buckets. As I was phoning the various part ads in the local Buy & Sell and I came across a fella in St. Catherines by the name of Ian Kerry who said to come on down as he had tons of '70 Cuda parts including a mint set of buckets! Off I went. Upon arrival I was a little disappointed as the buckets were not the '70 'Cuda vinyl buckets that I was familiar with, they were 1970 Grand Coupe leather faced ones. He also had the matching rear covers that were also in mint shape. After some thought I decided the car might look better with the upgraded interior and who knows when you are going to come across another set. Looking around Ian had pretty much everything I needed. I remember leaving with the buckets, the rear covers, a set of road lamps complete with the brackets, wiring harness and switch. I also got a very decent dash pad and a few other tidbits all for the princely sum of $350!!! Or somewhere close to that, man those were the days.     

Some of the other deals I came across while I had the car were; the mint sport 'Cuda hood for $75, two 8K rallye  gauge clusters at a swap meet for $25 and something that I didn't buy but always sticks out in my mind was the mint '70 'Cuda dashpad for $400 with the VIN tag still riveted on BS23VOB!!! I wonder what happened to that car and if that dashpad made it onto another car??? At this time I also ran into a cocky little fella named Alan Gallant who sold me the vinyl top chrome trim for $40.

I was always looking for parts, and of course my budget was small (hey I am a cheapskate, what can I say) and dreaming on how the 'Cuda would look in the future. I was thinking of a high impact colour (that is why I bought the vinyl top moulding, I have always thought a black vinyl roof broke up the paint well on a '70 Cuda), shaker hood (I could have bought a complete factory set-up from the Shaker Guru Terry McCann for $2000), a front rubber bumper (found one for $500 along with a V-code 'Cuda for $5000 about 5 minutes from my sisters house but I didn't have an extra $5k sitting around wah wah) a go-wing, a six pack set-up as well as the missing drivetrain components. Back then an E-body Dana was $500 to $750 and a Hemi 4-speed was under $500.  Well I never got much past the dreaming stage as in September of 1990 I bought my first house and the car had to go. I actually had two cars for sale...a 1981 Z/28 Convertible and the 'Cuda...why couldn't have someone bought the Z/28!!! Where is that time machine when you need it anyway!!!

The best feature of this 'Cuda was the sheetmetal. The body was perfect, it had one coat of some shade of maroon paint but the only imperfection was a small crease dent on the trunk lid where it looked like something wood fell on it in a garage. All the chrome trim, grille, rubbers were in great shape and fit perfectly. Even the Cuda rocker mouldings came with the car and looked to be NOS pieces. As you can see in the above pictures the floor pans and trunk floors were excellent with only some flash surface rust showing.  

The car had 33,331 miles on its standard gauge panel when I sold it. It really must have seen limited use and was kept in dry storage. I never licensed the car and was limited to a couple passes up and down the street.

There is not much doubt to what the purpose of this car was early on in life and what probably led to its low mileage and need for speed modifications! To start off the 440 4bbl Super Commando engine combined with the 4-speed tranny was  a fairly uncommon combo back in the day with only 334 being dropped into '70 'Cuda's in 1970. By comparison there were 902 4-speed Six Barrel 'Cuda's!!!

And my 'Cuda would have been some sort of sleeper, well I am not sure you could call any '70 Cuda a sleeper but lets say it wasn't a in your face, chest pounder!!! It was painted the subdued Ivy Green Metallic with no hockey stripe and black interior. It rolled on 14 inch steel body coloured rims and dog dishes. Budget drivers outside mirror, standard gauges and no console...just a lonely pistol grip shifter poking up threw the floor connected to a great go fast drive-train. 440 4bbl 4-speed and the Super Track Pack 4:10 equipped Dana rear axle.

Of course with the Super Track Pack came the front power disc brakes but on top of that not much was added...just an AM radio with rear speaker!

Am sure this car would have been an unholy terror back on the street in its day and coincidentally had a scheduled build date of Friday the 13th of March 1970...

When I had the car it had a mint broadcast sheet, original fender tag and the cowl and radiator support numbers matched. I cannot remember if it had a door sticker or not. 

If I still owned the car today I would have liked to see it restored back to its broadcast sheet, painted it back to its Ivy Green Metallic. Some exceptions I would liked to have made though are to add the front rubber bumper and painted sport mirrors. I would also have a set of steel 15 inch body coloured rims replacing the 14 inch units. Where did I park that Time Machine again!!!

I have been lucky enough to find the car again so please read on!!!

After a few years of never hearing or seeing my old 'Cuda again (you know the drill, looking at all the 70 Cuda's you find seeing if it has the right VIN) my buddy spots a guy at Moparfest 2003 wearing a t-shirt with an air brushed '70 Cuda on it. Soooo I say! My buddy goes on to say it looks like my old car...yeah right! So I catch up to this fella, catch a glimpse of his shirt and sure enough its my old car!!! We exchange some stories and I fill him in on the history of the car as I know it. Of course I ask if its for sale and it is not!

Fast forward to Moparfest 2004...there on the show field it sits. Wow I just can't believe it. Same old Maroon paint and my rattle can flat black hood! We get to chatting again with the owner and he is indeed thinking of selling and maybe getting something new. Great I am thinking to myself...here's my chance to buy it back! Well he shoots out a few numbers on what he thinks its worth and I am just nodding thinking about what I could afford to buy it back. Things just don't work out and we separate while I am still thinking about buying the car back.

Well of course I leave it too long and before the end of the show the owner works out  a deal for a trade for a '70 or '71 Challenger errrr.

Well it was still nice to see the Cuda again and I really have no regrets...excuse me while I go look for my time machine...

Well a few months go by and these pictures are sent to me by my good friend Shane. It seems that Kevin Easton was the one who made the deal for my 'Cuda and just finished "restoring" it. He took a few liberties and changed a few things based on his own personal preferences. He got the drivetrain back the way it should be with the 4-speed and dana (not too many things cooler than seeing that pistol grip poking up threw the floor with no console), added the go-wing and the high impact Tor Red paint! That is one way I pictured the car soo long ago! I got to admit the rimblow steering wheel and the rallye gauges look good in there along with Grand Coupe seats. The only thing that is missing is the Grand Coupe inserts in the doorpanels. Either that way or completely back to original would be equally nice I think. I still think going back to the original colour would have been best but its hard not to smile when you see the car now!!!

Hold on a second I think I may have found my keys to my Time Machine!!!

Read on!!!

Last month I got the following picture and story from a long time contributor to the Maple Leaf Mopar site...enter Robin:

Dave, after perusing your Maple Leaf Mopars webpage, I came across your story about your previously owned 1970 'Cuda. I got to thinking, and went on a bit of a quest through my mounds of old photos, and came up with this.

In 1983, I was a new Private in the Canadian Forces, and after "boot camp", I was posted to CFB Borden, just outside of Barrie, Ontario. It was there I learned my new trade of Photographic Technician over the next six months. Having lived in New Brunswick up to that point, I had never seen a real, live 'Cuda 440 before, only lesser 'Cuda 340's, and only one or two at that.

This car was owned by a local guy, who I'm assuming was in the military as well. It was frequently seen cruising around the Base, burning rubber most of the time. Anyhow, I managed to grab my 35mm camera one day and track it down, and got my friend Dana to shoot a picture of me next to it.

It was F8 Green, 440 four barrel, four speed with a Dana 60.

Judging by the way it revved so fast, I'm assuming it had 4:10 gears back there.

I briefly talked to the owner and asked if it was and original, and whether it was fast or not.  Kinda stupid to ask that, and he let me know that too!

I also asked him to put on the fog lights as he left, and he did. ....Coool!

Anyhow, I have no idea what happened to this car, as after that summer I never saw it again, but it left an impression on me. The next year, I was posted to Manitoba...where I bought my 1970 Challenger R/T, 383 four speed, in F8.

I wonder how many 1970 F8 'Cuda 440 four speeds ended up in Ontario?

-Robin

Man maybe that is my old ride!!! Stripe delete, no passenger mirror, rocker gills are off the car, EF8-Ivy Green Metallic, 440 4bbl, 4-speed, 4:10 dana?

Is that a sweet looking ride or what!!! Even with those Cragars it looks good, sits right and looks mean!

Time Machine where are you?

R11 Y07 26 EN1

M21 M25 M31 M88 N41 N42

EF8 A34 B51 C55 J45 J54

EF8 H6X9 000 313 C45724

E86 D21 BS23 U0B 276445       

R11-am radio

Y07-built to Canadian specs

26-26 inch rad

EN1-assembly line number 1

M21-drip rail mouldings

M25-body sill moldings

M31-body belt mouldings

M88-rear deck mouldings

N41-dual exhaust

N42-chrome exhaust tips

EF8-painted roof Ivy Green Metallic

A34-Super Track Pack

B51-power brakes

C55-bucket seats

J45-hood pins

J54-sport hood

EF8-body painted Ivy Green Metallic

H6X9-high grade black vinyl buckets

000-full door panels

313-scheuled production date of Friday the 13th March 1970

C45724-Canadian vehicle order number

E86-440 HP 4bbl

D21-4 speed

BS23-'Cuda

U-440 Super Commando 4bbl 375 horse power

0-model year 1970

B-assembled at Hamtramck Michigan

276445-VIN sequential number