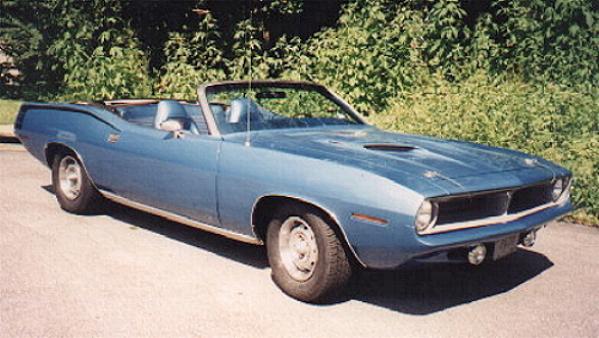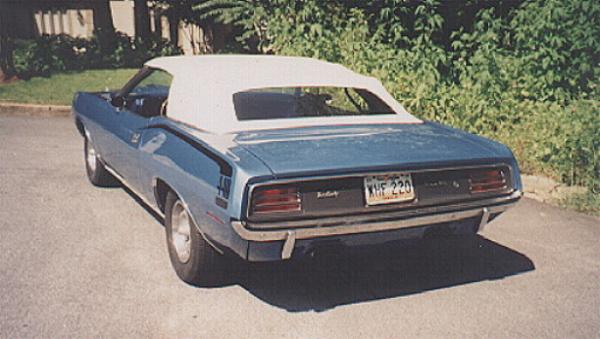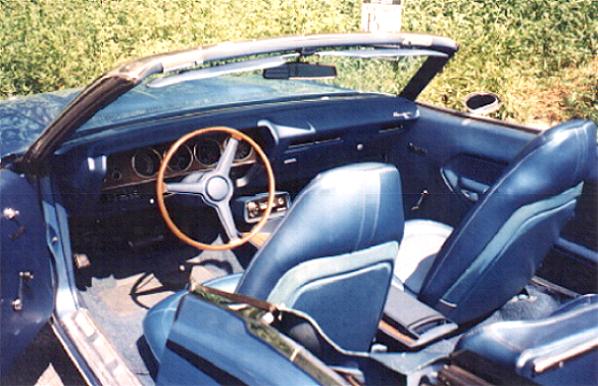 1970 Plymouth 'Cuda 440

            Convertible

Owner: Rick Simpson, Ontario .

Yes the 70 is the poster car that you see everywhere. I even bought a poster after I bought the car last January. It was a featured car in MuscleCar Review in June 1988 when it was part of the Tim Wellborn (Al.) collection. Wellborn owned the car until 1984 when he sold it to Mark Headrick(Ga.) ( a well known Mopar man who now runs GoodMark Industries which are heavy into repop parts) Mark owned the car for a couple of months before he sold it to Steve Aimes. I bought the car over the internet from Steve Aimes of Aimes performance in New Hampshire. Steve has an extensive collection of muscle cars predominately of Pontiac make. He had two Mopars this Cuda and a well restored 68 Hemi Runner. Steve sold the car to pursue a 71 Hemi Cuda. Last I heard he was still looking.

As you may gather by now I watch the muscle car and in particular the Mopar segment fairly closely. When I saw the car for sale late last year it was the first 440-4 barrel Cuda ragtop that I had seen for sale, since the Mopar Nats in 1989! From 87 to 89 I had pursued several 440-4 Challengers that were sale and missed on three. The Cuda was a shell that needed too much work

.

I was very interested in this car when it was advertised. I spoke several times with the owner's representative a twice to the owner. The car's origins are in the south west and my main concern was rust. I was assured that the body was very solid but they didn't know enough to tell me if it was numbers matching. I was assured however that any sale would be subject to my final inspection and acceptance.

At the time I owned a Vitamin C 70 six barrel Cuda convertible that was an older restoration but really needed the floors and trunk floor replaced, correct short block and some other restoration work that I didn't want to carry out. It was far from junk but it was far from a quality car. A collector in Mass that I have known for several years wanted the 6 barrel so I knew I could come up with the scratch for the blue car.

When the Cuda's auction ended I made sure that I was the highest bidder. It moved $10,000 US in the last 5 minutes!  The Cuda is a factory 440-4, automatic, air, ragtop, B5 blue paint, blue interior, white top, ps,pdb,console, am/fm cassette, rallye gauges, 3.23 gear, power top and rubber front bumper. There wasn't a broadcast sheet but a tag

The fender tag codes are as follows:

P37 R22 V5W Y05 26 EN1

M88 N41 N42 N85 N95

C55 G36 H51 J45 M25 M31

V3W A04 A21 A62 B51 C16

EB5 H6B5 000 A12 029606

E86 D32 BS 27U0B 157153

The car has been in storage since I brought it home. I will have it out next season to several shows.

Thanks Rick for letting us feature your 1 of 34 'Cuda 440 4bbl convertibles sold new in the USA in 1970. Not too many cars past or present can match the performance, looks and comfort of this rare car. In a world where the word rare is often over and mis-used, I think every one will agree that the 635 'Cuda convertibles that were assembled in 1970 is not enough to go around. Rick's car features air conditioning which by the way could NOT be had with the two higher horse options, the 440 Six Pack and the 426 Hemi. Also unavailable was the 440 4bbl and a four speed with air. So if you wanted the maximum performance with your air conditioning you had to go with the 440 4bbl and the auto tranny as this 'Cuda is equipped and like 27 other 'cuda convertibles were. I will leave it to Rick to tell you a bit more about his fine car....which if I am not mistaken was used in the glamour framed pictures of  musclecars that you see at swap meets.

Here is the decode for the fender tag:

E86-440 4bbl 375 horse engine                                           C16-console

D32-3 speed auto tranny                                                       C55-bucket seats                      

BS-'Cuda                                                                                   G36-racing mirrors

27-convertible                                                                           H51-air conditioning

U-440 4bbl engine                                                                    J45-hood pins

0-model year, 1970                                                                   M25-sill mouldings

B-assembled at Hamtramck Michigan                                M31-belt mouldings

157153-VIN                                                                                 M88-deck mouldings

EB5-Blue Fire Metallic                                                             N41-dual exhaust

H6B5-high grade medium blue bucket seats                    N42-chrome tips

000-full door panels                                                                 N85-tach

A12-scheduled build date of Sunday Oct. 12th 1969      N95-emissions

029606-vehicle order number                                               P37-power convertible top

V3W-white convertible roof                                                   R22-am 8 track stereo

A04-basic radio group                                                            V5W-body side mouldings    

A21-front rubber bumper                                                       Y05-sold in USA

A62-rallye dash                                                                          26-26 inch rad

B51- power disc brakes                                                          EN1-end of sales codes