440 Six Pack Auto 4:10 Dana

Owner: Lynn & Alan Gallant, Georgetown Ontario.

15159 149308  413  052

  G11       P31

26  G36  L37

FE5    C        C16         N96

FE5  D6XW   TX9  129 B29234

E87  D32  WS23  V1A 149366

Welcome to the page of Lynn & Alan Gallant's 1971 Charger R/T. On this page we will view the fender tags and broadcast sheet. We will also see what Galen Govier has to say about this car along with the latest Canadian Production Figures courtesy of Jimmy Boros. We will also have some resto progress pictures so please read on. 

E87-440 Six Pack engine

D32-3 speed auto tranny

WS23-Charger R/T

V-440 Six Pack engine

1-model year 1971

A-assembled at Lynch Rd

149366-VIN

FE5-Bright Red paint

D6XW-deluxe white and black bucket seat interior

TX9-black upper door panels

129-scheduled build date of Friday January 29 1971

B29234-order number

FE5-Bright Red roof paint

C-sold new in Canada

C16-console 

N96-air grabber hood

26-26 inch rad

G36-painted racing mirrors

L37-hide-a-way headlights

G11-tinted windows all

P31-power windows

15159-gate and base number

149308-line sequence number

413-440 Six Pack engine w/auto trans

052-4:10 dana with 10 inch brakes

Does anyone have any input to what the second tag might be?

Canadian Production Numbers

   1971 Dodge Charger R/T's

333-sold new in Canada

12-426 Hemi

25-440 Six Pack 4 speeds

17-440 Six Pack auto tranny

241-440 4bbl auto tranny

38-440 4bbl 4 speeds

35.1%-15x7 rallye wheels

24.6%-hide-a-way headlights

40.8%-3:23 sure grip

25.2%-exhaust tips

21.0%-spoiler package

Thanks to Jimmy Boros for providing these numbers!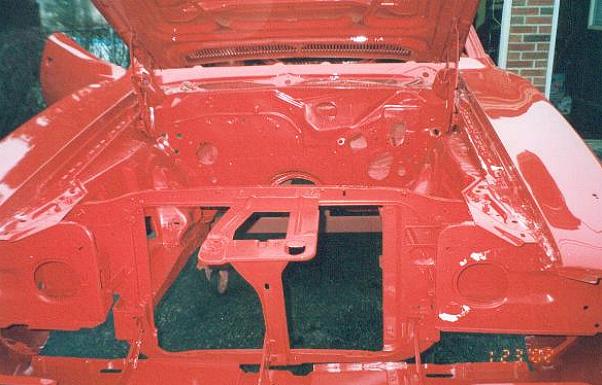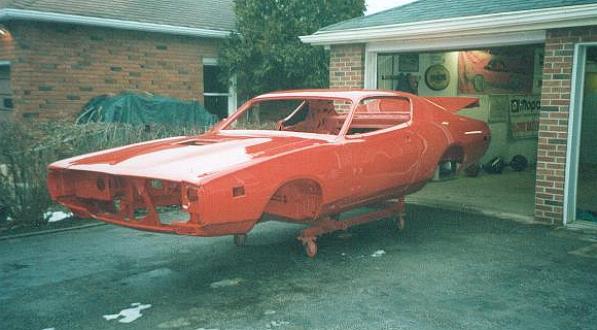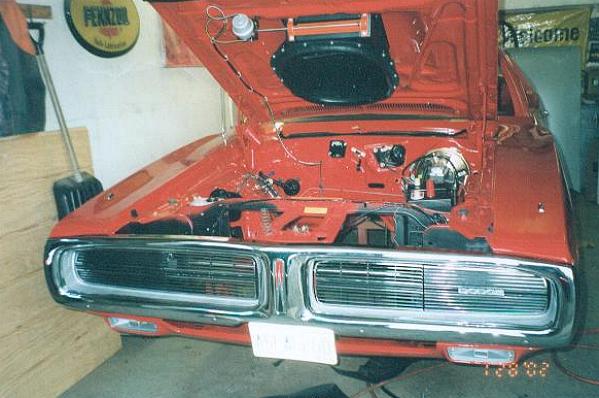 Will before you go on to check out the progress on the Charger you might want to click
here
to see the broadcast sheet. Or maybe you'd like to see what Galen Govier sends you when you join the Chrysler Registry by clicking
here
. Alan would also like know if anybody has additional information about the original dealership or owner of this car...remember it was bought new in New Brunswick...to email him at
anlauto@hotmail.com
. In the time it has taken me to get this webpage together, Alan has already assembled a good part of the car...what does that say about me????????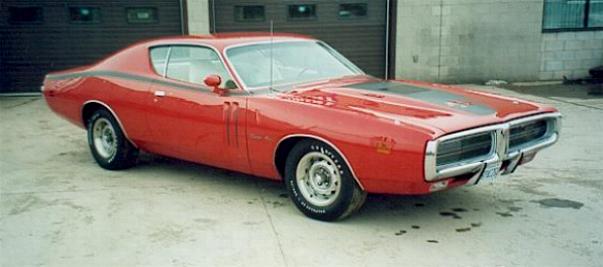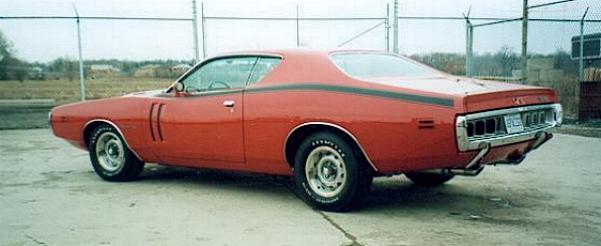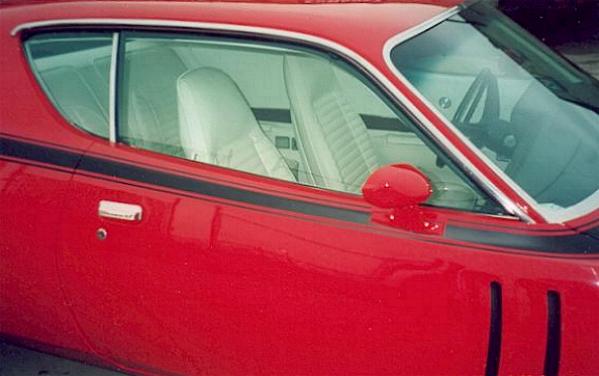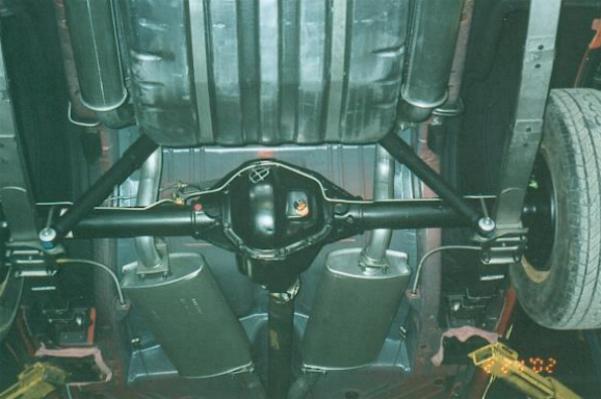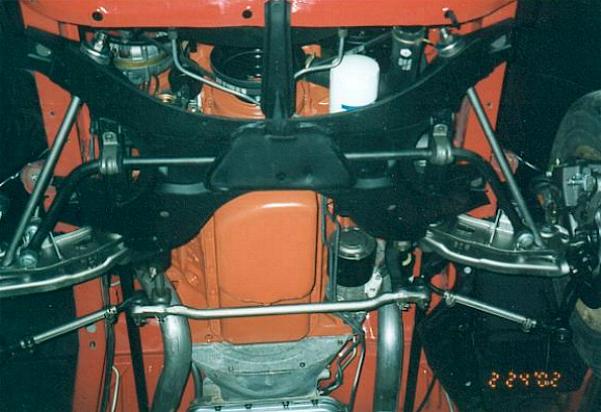 Well there you have it, an 18 month restoration is now completed...looks like you did a awesome job Alan!!! Where do you want me to send my Super Bee?

I'd love it to turn out that nice...

The car went together fairly smooth. I had to get another stripe kit last minute because the one that came with the car when I bought it turned out to be the wrong shade of black and it was also 18 fricken years old!

Other than a few minor leaks and some electrical gremlins, which were to be expected, the car fired right up and purrs like a kitten! I drove it to the gas station on Saturday March 2nd 2002...It goes like a bat out hell!

-Alan

SOLD!!!        SOLD!!!       SOLD!!!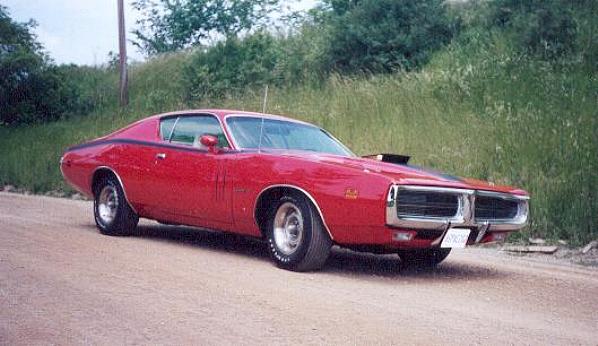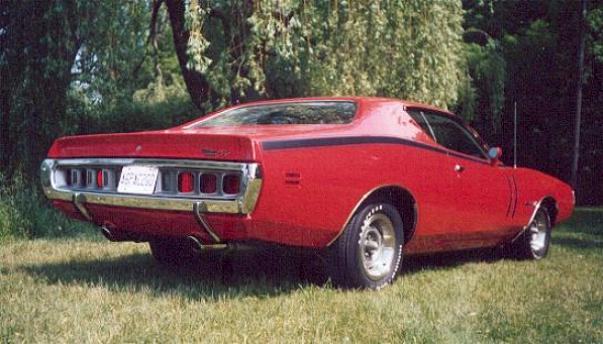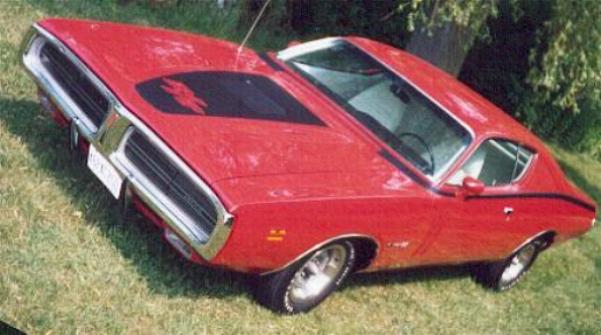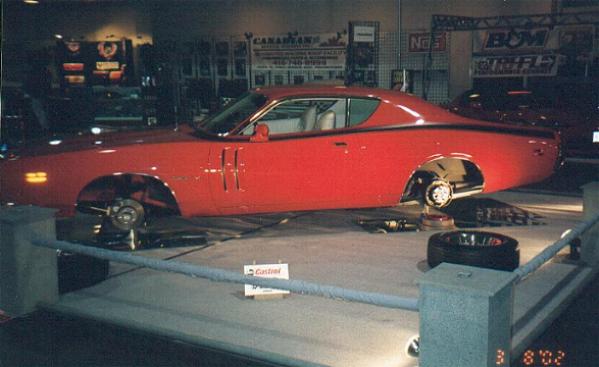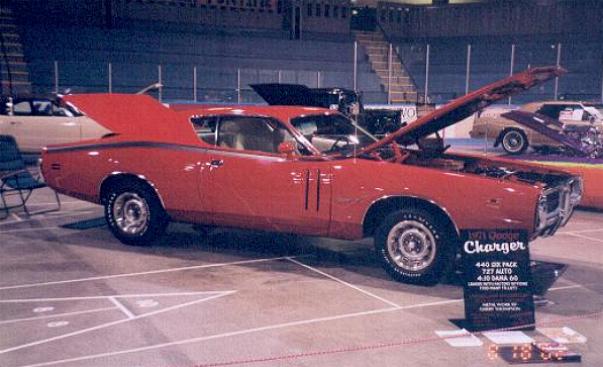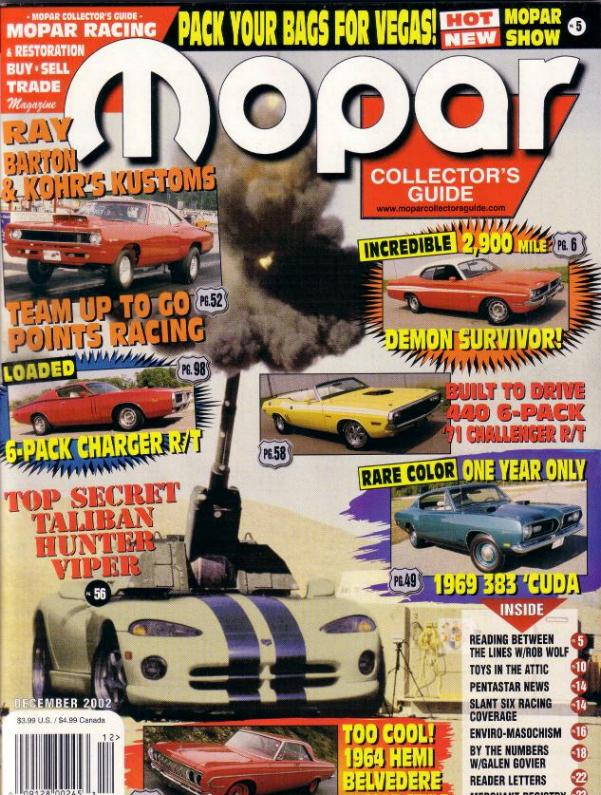 Car was finished for Performance World Car Show in Toronto on March 8, 9, 10 2002.

There it won:  Best in Class

                   The Scott Moore Memorial Award for Outstanding Mopar

                   Best Mopar Restored

                   Grand Champion Restored Vehicle

                   Top Ten in Show Third Place

Several trophies and $1300.00 in prize money.

Then the first Spring Fling in Mississauga was rained out, did not attend.

Second Spring Fling in Brampton, did not place :(

The Atlantic Mopar Nationals in Englishtown New Jersey

There it won First in Class both days, along with two magazine photo shoots, Mopar Collector's Guide published Dec. 02, and Mopar Action not yet published.

Canadian Mopar Nationals at Grand Bend Best in Class

On Father's Day Classic's against Cancer in Georgetown, Best in Class

Chrysler's at Carlisle on Display in the Invitational Display Building

Moparfest Same Deal, Special Display Area

Only went to one Fall Fling, at Brampton, won Best in Class


Here's a picture of the car taken in 1976:

1 of 98 Six Pack auto 1971 Charger R/T's. Actually the 98 is the amount of cars that were sold new in the United States; there were an aditional 17 sold new in Canada so it would be 1 of 115 sold new in North America. The car has a striking colour combo FE5 Bright Red paint with black stripes and white bucket interior. This well optioned car was obviously ordered to go fast and still look great. It is fairly uncommon to find Super Trak Pack car with the automatic tranny. I will let Alan tell you the story his rare Charger R/T.

The Charger is an original six pack car with all the numbers still matching,

broadcast sheet and fender tags still intact. It spent all of it's life in New

Brunswick until 1999 when a transmission expert from Georgetown Ontario

named Dave bought it and went down east to bring it home. He immediately

sold it to a well known Mopar guy from Hamilton named Les. Les put the car

in storage and collected parts for about a year. I bought it with a parts car in

Sept. 2000 and immediately started restoring it.

I found three previous owners who all still live in NB. The guy who sold it to

Dave really misses it and had always wanted to restore the car himself, but

was forced to sell it when he had marriage problems. He and I are in steady

contact today and he wants to be first in line when I sell it.

The paper trail ends in 1977 when Dalbert bought the car from a used car lot.

It is thought to have been sold new at Moncton Dodge NB.

I did a complete concourse style resto with the underside left in primer/overspray with undercoating.

The original options include...

red paint

white interior

black stripes

440 six pack

auto tranny

4:10 dana super track pack

hideaway headlights

front and rear bumper guards

air grabber hood

exhaust tips

dual painted mirrors

wheel lip mouldings

tinted glass

power steering

power brakes

power windows

six-way adjustable drivers seat

rear window defrost

am radio

buckets/console

pedal dress up kit

tach

rallye dash

15x7 rallyes

That's about it. There may be some things I forgot, however everything is legit

and on the broadcast sheet.

SOLD!!!        SOLD!!!       SOLD!!!